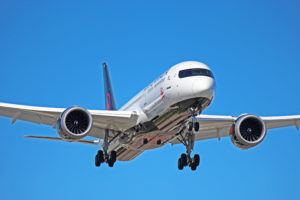 We started this site in September, 2016 as a place to put our aircraft photography, instead of on the main It's About Travelling website. I don't think it was ever meant to be anything huge (and still isn't). However, the traffic has increased each month and it has become somewhat of an obsession to post as many airplanes as possible.
At first, we shied away from posting too much domestic product (Air Canada, WestJet, Air Transat, Sunwing) but, based at Toronto Pearson International Airport (YYZ), that was mostly what we were photographing. The tables turned and we've been trying to 'catch em all' and complete the collection from those airlines.
With our first full year, 2017, nearly in the books, we thought it would be fun to look back on the Top 10 commercial airliners that people were looking for when they visited It's About Airplanes. There are a fair share of Air Canada airplanes on the list but there are a few international airlines that came close to the top.
Here's to a successful and fun 2017 and looking ahead to an even better 2018! Thanks for visiting and be sure to come back often as there's always new content. We're looking ahead to a trip to Cuba later in January and I'm hoping to sneak away to the airport in Holguin to capture some images of Cuba's mostly Russian made aircraft.
For a video showing all the airplanes we featured in 2017, see the bottom of this article.
2017 Top 10 Most Popular Commercial Airliners
Here are the Top 10 – starting from number 10 and moving down to the number 1 most viewed aircraft at It's About Airplanes in 2017. The hyperlinked registration numbers will take you to the main article for that particular aircraft.
AP-BGZ Pakistan International Airlines Boeing 777-200LR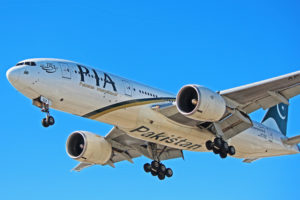 We've seen this particular aircraft more than once at Toronto Pearson. AP-BGZ is a rare Boeing 777-200LR that took its first flight on May 24, 2005 before being delivered to Pakistan International Airlines on March 23, 2006.
This B77L will be forever known for its 'shitty situation' on a November 19, 2016 flight from Toronto, Ontario to Lahore, Pakistan. Somewhere over the North Sea, it was decided to divert to Manchester, England. The problem? All the toilets on board the aircraft were inoperative due to the main drain being blocked by a solid object flushed down by a passenger.
C-GORF Air Canada Express (Air Georgian) Beech 1900D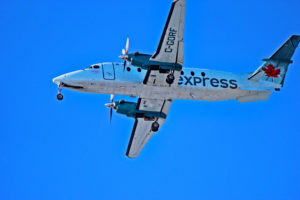 Coming in at number nine is C-GORF, a humble Beechcraft 1900D flown for Air Canada Express by Air Georgian (with some pretty crappy photos, to boot). The 18 seater was delivered to Air Georgian on October 30, 1998. In recent years, this aircraft has had some interesting, and potentially dangerous, incidents.
Back on June 28, 2015, C-GORF was involved in some confusion with the tower at Toronto Pearson. The Beech 1900D entered runway 05 at the same time a WestJet Boeing 737-800 (C-GWJU) was about to land. The B738 aborted its approach just 700 feet from the runway and went around.
Just over a year later, C-GORF was flying from Lethbridge to Calgary in Alberta. On approach, it was noticed that the nose landing gear did not fully lock down. Crew was unable to get the gear to fully extend and it did collapse on landing.
C-FRQN Air Canada Express Embraer ERJ-175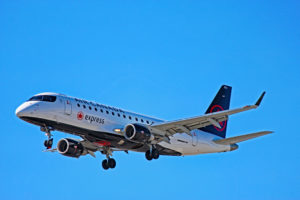 Exciting times for us when we photographed C-FRQN in April, 2017. I do believe this was the first aircraft we captured with the latest Air Canada livery. This Embraer ERJ-175, now flown for Air Canada Express by Sky Regional, has been around the block since first entering service in 2006.
On November 2, 2006, the aircraft started life with Paramount Airways India. After that airline ceased operations in 2010, the E175 was then sent to TRIP Linhas Aereas in Brazil. That subsidiary of Azul Brazilian Airlines ceased ops in 2014 but our ERJ-175 was already gone. The airliner spent time with AeroMexico Connect from 2013 to 2016 before joining the Sky Regional fleet on February 11, 2017.
N801DM Elan Express Boeing 757-200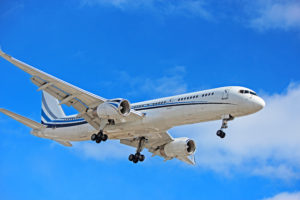 N801DM hits the seventh spot probably more due to who was on board than the airplane itself. The Boeing 757-200 is a charter aircraft flown by Elan Express. When we photographed it in March, 2017 it was carrying the Dallas Mavericks to Toronto for a NBA game against the Raptors.
A well traveled aircraft, N801DM started life with Iberia Airlines in August, 1993. During its time with Iberia, the B752 was often leased out short term to other airlines. It came to North America in December, 2000, flying for Pace Airlines and started flying for Elan Express after Pace ceased operations in 2009.
LY-VEQ Cubana (Avion Express) Airbus A320-200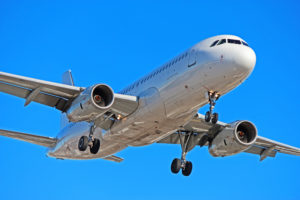 Never painted with any indication that the flight is being operated for Cubana de Aviacion, Avion Express Airbus A320-200 aircraft are not an uncommon sight at Toronto Pearson International Airport (YYZ). LY-VEQ was painted white but, as we've put up recently with LY-COM, they can come a pretty sexy black livery, as well.
LY-VEQ started life far from Cuba, first delivered to China Southern Airlines in August, 1997. The aircraft has been flying for Cubana since the summer of 2014 and spends much of its time performing flights between Toronto and the Caribbean island.
PH-BFY KLM Asia Boeing 747-400M Combi
The first of two Boeing 747-400M Combi aircraft that we've featured, so far, at the site. PH-BFY, also known as the City of Johannesburg, was first delivereed to KLM in April, 2002. These variants of the inconic Boeing 747-400 can carry cargo in the back portion of the main deck with passenger seats in the front portion.
KLM Asia came about as a wholly owned subsidiary of the main KLM Royal Dutch Airlines as a way to operate flights to Taiwan without messing up the airline's relationship with China. It was established in 1995 and it's aircraft are absent the Netherlands flag and the Dutch crown logo.
C-FNNH Air Canada Boeing 777-200LR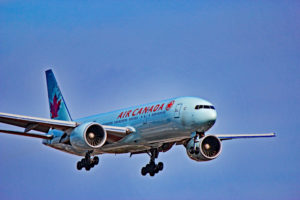 We're now up to five of six Air Canada Boeing 777-200LR aircraft featured at the site. However, it's C-FNNH that is the most popular. This B77L has a history of incidents involving smoke in the airplane, tire damage and, of course, severe turbulence. With the Boeing 777-200LR being dubbed the 'Worldliner' for its ability to connect any two airports around the world in a single flight, that sort of fun stuff is bound to happen.
As mentioned above with AP-BGZ, this variant is rare. There were just 59 delivered by Boeing and Air Canada is currently flying six of them. PIA has just two B77L but was the launch customer.
D-ABVP Lufthansa Boeing 747-400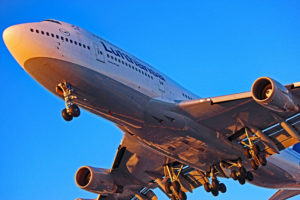 Coming in number 3 is D-ABVP, a Lufthansa Boeing 747-400. This B744 was delivered to Lufthansa in February, 1997 and named Bremen by the German airline. Still a strong operator these aging jumbo jets, the airline has 13 in the fleet but all will be phased out by 2025, replaced by Boeing 777-9 models.
An airplane with a great safety record, D-ABVP did have to divert a flight in June, 2010 but not for any mechanical reasons. On a flight from Mexico City to Frankfurt, Germany, a 45 year old male passenger became increasingly disruptive. The crew decided to divert to St. John's, Newfoundland in Canada and the passenger was taken into custody. The result was a hefty $10,000 fine.
G-CIVD British Airways Boeing 747-400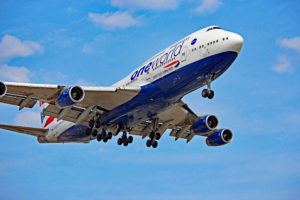 One of still 36 Boeing 747-400 aircraft in the British Airways fleet, G-CIVD is unique with its Oneworld livery. It has been painted in honour of the airline alliance since 2014. This B744 was delivered to British Airways back in December, 1994.
British Airways became a founding member of Oneworld on February 1, 1999. Other founding members included American Airlines, Canadian Airlines, Cathay Pacific and Qantas. Canadian has since ceased operations, acquired by Air Canada. The alliance now has 14 full members and his headquartered in New York City.
C-FRTG Air Canada Boeing 787-9 Dreamliner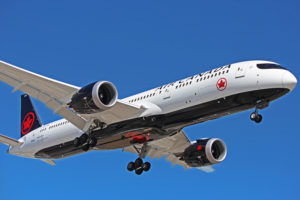 Coming in at number 1 – C-FRTG, an Air Canada Boeing 787-9 Dreamliner. This didn't even get published until June 11, 2017 so how did it get so popular? Well, when we photographed it on June 8, 2017 it had only been with Air Canada for two weeks. Also, it was painted in the latest livery, a bit of a rarity at the time.
C-FRTG was delivered to Air Canada on May 24, 2017, the 19th B789 to enter service for the Canadian airline. The airliner can carry 298 passengers to destinations around the world and will be a mainstay in the AC fleet for some time to come.
Social Media
Thanks for taking the time to read our 2017 year end roundup. If you've read down this far, you're probably a fan of airplanes. Besides this site, we can also be found on a few social media platforms. We'd love it if you'd check us out there, as well!
2017 Year In Review Video
More Like This: