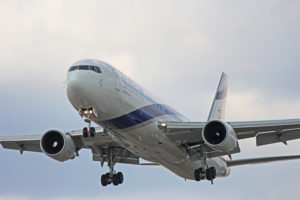 In the El Al Israel Airlines fleet since late 2015, 4X-EAN has been around since entering service over 20 years ago with Air Europe Italy. We photographed this Boeing 767-300ER on final approach to Toronto Pearson International Airport (YYZ) while plane spotting on September 14, 2017.
For full-size, high resolution versions of any of the photos in the image gallery, simply click on the individual pictures. See below for more detailed information on 4X-EAN, the Boeing 767-300ER model in general and the airline.
4X-EAN El Al Israel Airlines Boeing 767-300ER Image Gallery
4X-EAN
4X-EAN took its first flight on June 19, 1996 and was delivered to Air Europe Italy on June 27, 1996 as EI-CMQ. The B763 was last used by Air Europe Italy on December 16, 2008 before being put into storage for over a year. On May 4, 2010, the aircraft was delivered to Ethiopian Airlines as ET-ANU. It remained with that airline until entering storage in March, 2014. After over another year in storage, the Boeing 767-300ER was delivered to El Al on October 11, 2015.
Air Europe Italy was founded in 1989 and ceased operations in 2008. It was headquartered in Varese, Italy and was under the parent company Alitalia. At the time of their demise, there was a single Boeing 767-300ER in the fleet, flying to six destinations.
One of six B763 models in the El Al fleet, 4X-EAN is configured for a maximum total of 218 passengers with 22 seats in business class, 28 more in premium economy and 168 in economy class. All El Al's Boeing 767-300ER aircraft are to be replaced by Boeing 787 Dreamliners by 2020.
On September 1, 2008, the B763 was flying from Fuerteventura, Spain in the Canary Islands to Milano, Italy. The aircraft was being flown by Air Europe for Volareweb. The airliner was diverted to Madrid, Spain after a cracked window on the left side of the passenger cabin was detected. The flight had already been delayed 17 hours before even leaving Fuerteventura.
Boeing 767-300ER
The Boeing 767-300ER is 55 metres or 180 feet in length with a wingspan of 48 metres or 156 feet. At the tail, the aircraft stands 16 metres or 52 feet in height. The flight range for this airliner is 11,070 kilometres.
The first 767-300ER was introduced with American Airlines in 1988. In all, a total of 583 were put in service. The first Boeing 767 variant was introduced in 1981 with United Airlines.
El Al Israel Airlines
El Al Israel Airlines was founded in 1948 and is headquartered at Tel Aviv Ben Gurion International Airport (TLV) in Central District, Israel. The airline has a fleet of 43 aircraft flying to 51 destinations around the world. The fleet is down to five Boeing 747-400 and six Boeing 767-300ER models. These are to be retired and replaced by Boeing 787 Dreamliner models in the near future.
Resources
Ben Gurion International Airport
More Like This: