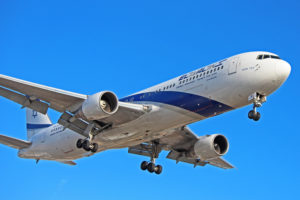 4X-EAR was well-traveled before even arriving to work in Israel. The Boeing 767-300ER has previously flown for Air Europe Italy and Vietnam Airlines before spending more than the past decade with El Al Israel Airlines. We photographed the B763 while plane spotting at Toronto Pearson International Airport (YYZ) on October 19, 2017.
For full-size, high resolution versions of any of the photos in the image gallery, simply click on the individual pictures. See below for more detailed information on 4X-EAR, the Boeing 767-300ER model in general and the airline.
4X-EAR El Al Israel Airlines Boeing 767-300ER Image Gallery
4X-EAR
4X-EAR took its maiden flight on June 12, 1995 and was delivered to Air Europe Italy on June 22, 1995 as EI-CLS. On January 18, 2001, the Boeing 767-352ER moved south and east to join the fleet of Vietnam Airlines as VN-A769. The aircraft was finally delivered to El Al on August 1, 2006.
This airliner is configured for a maximum total of 218 passengers with 22 seats in business class, 28 more in premium economy and 168 seats in economy class. This is one of seven B763 models in the El Al fleet, all to be replaced by Boeing 787-8 and Boeing 787-9 aircraft by 2020.
4X-EAR had a rough couple of months in late 2013. On October 9, 2013, the Boeing 767-300ER was flying from Bangkok, Thailand to Tel Aviv, Israel. Near Asmara, Eritrea, an engine failed and the aircraft was diverted to Asmara for a safe landing.
Less than two months later, on November 29, 2013, the airliner was flying from Toronto, Ontario to Tel Aviv. Over Romania, the B763 had cabin pressure issues and diverted to Bucharest, Romania. After seven hours on the ground, 4X-EAR continued on its way to Tel Aviv, cruising at just 17,000 feet.
Boeing 767-300ER
The Boeing 767-300ER is 55 metres or 180 feet in length with a wingspan of 48 metres or 156 feet. At the tail, the airliner stands 16 metres or 52 feet in height. The flight range is 11,070 kilometres. There have been 583 Boeing 767-300ER aircraft put into service with the first introduced with American Airlines in 1988.
El Al Israel Airlines
El Al Israel Airlines was founded in 1948 and is headquartered on the grounds of Tel Aviv Ben Gurion International Airport (TLV) in Central District, Israel. The airline has a fleet of 44 aircraft flying to 51 destinations. There are still six Boeing 747-400 in service, five configured for passengers and one a freighter. Those aircraft, along with the seven Boeing 767-300ER models will be phased out in the next few years and replaced by Boeing 787-8 and Boeing 787-9 aircraft.
Not included in the fleet and destination numbers are the two subsidiaries of El Al. 'Up' is a low cost carrier that commenced operations in 2014. Sun d'Or is a tourism charter that commenced operations in 2011.
Resources
More Like This: