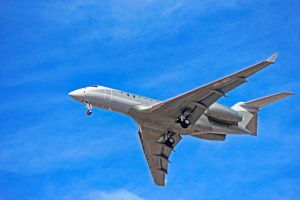 They're no Airbus A380 or Boeing 747. Still, private jets like the Bombardier Global 5000, as in 9H-IBD, have their appeal. It's what they do to your sense of curiosity and imagination that does it. What sort of celebrity or dignitary might be on board? What exotic locale is the plane arriving from? What would it be like to fly on an aircraft like this?
This Bombardier Global 5000, registered 9H-IBD, was inbound to Toronto Pearson International Airport (YYZ) on November 5, 2016. Since it's first flight in 2010, the Global 5000-BD-700-1A11 has belonged to four different companies. Currently, it belongs to Private Jet Company Malta Ltd.
For full sized, high resolution versions of the pictures in the gallery below, simply click on the individual images. See below the gallery for more info on this aircraft.
9H-IBD Bombardier Global 5000 Image Gallery
9H-IBD
This Bombardier Global 5000-BD-700-1A11 currently belongs to Private Jet Company Malta Limited. It is based out of Malta International Airport (MLA) in Luqa, Malta. The airport is a hub for Air Malta and a base for ultra low cost carrier Ryanair. The serial number of the airplane is 9401.
The twin engine aircraft was originally delivered to Bombardier Aerospace on April 21, 2010 and was registered C-GEHV. On March 29, 2012, the plane changed hands to Amira Air under the registration number OE-III. September 4, 2014 saw it move again to Rensis under the registration M-IBID. On September 2, 2016, it was transferred to its latest owners under 9H-IBD.

Bombardier Global 5000
The Global 5000 is an updated version of Bombardier's Global Express Series. The Global Express was first introduced in 1993 and took its first flight in 1996. The first Global 5000 was introduced in 2001 and took its first flight in 2003. It's first public appearance was at the 2003 Paris Air Show.
These planes are built in Toronto before being flown to either Montreal, Quebec; Savannah, Georgia or Cohakia, Illinois for final completion. They can be configured for up to 18 passengers with a crew of three. Several country's military around the world use these private jets for VIP transport.
The Global 5000 is 96 feet or 30 metres long with a wingspan of 94 feet or 29 metres. At the tail, the airplane stands 26 feet or eight metres tall. This aircraft can travel at speeds of over 900 kilometres per hour with a flight range of 9,630 km.

Resources
More Like This: