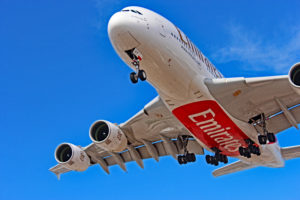 The latest number is 94 Airbus A380-800 aircraft in the Emirates fleet. That's simply amazing. A6-EET is just one of these mammoth airplanes. A6-EET made its debut for the airline in 2014. In its short life, the Airbus A380 has already had to deal with a bit of adversity – details below.
The images in the gallery were taken on August 7, 2016 at Toronto Pearson International Airport (YYZ) in Mississauga, Ontario. For full-size, high resolution versions for any of the photos, simply click on the individual pictures. See below for more detailed information on this specific aircraft, the Airbus A380-800 model in general and the airline.
A6-EET Emirates Airlines Airbus A380 Image Gallery
A6-EET
Officially an Airbus A380-861, A6-EET took its first flight on November 6, 2013 and was delivered to Emirates some time later on March 27, 2014. This is one of 94 Airbus A380-800 aircraft currently in the Emirates fleet with many more to come. Emirates is the largest operator of the double decker airplanes.
On May 20, 2015, A6-EET was involved in an interesting incident on a flight from Dallas Ft. Worth, Texas to Dubai in the United Arab Emirates. Near Warsaw, Poland, a passenger suffered a stroke. The crew diverted to Warsaw and landed safely. While turning on the runway, the nose gear struck one of the edge lights, damaging one of the nose wheels. A replacement aircraft had to take the passengers on the rest of the journey.

Airbus A380-800
the Airbus A380 was first introduced in October, 2007 with Singapore Airlines. There are currently 208 of these aircraft flying around the world for 13 different airlines (Singapore Airlines, Emirates, Qantas, Air France, Lufthansa, Korean Air, China Southern Airlines, Malaysia Airlines, Thai Airways, British Airways, Asiana Airlines, Qatar Airlines, Etihad Airways).
The airplane is 73 metres or 239 feet in length with a wingspan of 80 metres or 262 feet. At the tail, the Airbus A380 stands 24 metres or 79 feet in height. The A380 is just seven feet longer than the Boeing 747-400 but has a wingspan 50 feet wider. The Boeing 777-300ER is actually longer than the A380 but about three feet.

Emirates Airlines
Headquartered in Dubai, United Arab Emirates, The Emirates Group is owned by the Government of Dubai. The main hub is the Dubai International Airport. The airline has a fleet of 256 airplanes, all either variants of the Boeing 777 or Airbus A380. These planes fly to 152 destinations worldwide. Their main hub is the Dubai International Airport (well worth the look on Google Earth).
Emirates was founded and commenced operations in 1985. With 94 and 48 more on order, the airline is by far the largest operator of the Airbus A380 and the second, behind Singapore Airlines, to fly one. Emirates is also the largest operator of the Boeing 777-300ER.

Resources
More Like This: