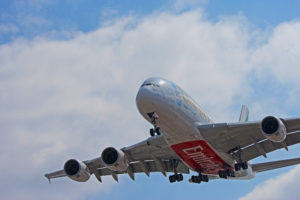 Enter the Airbus contest for a chance to win a flight on an A380 (ends July 17, 2017)!
Three times a week, Emirates Airlines flies an Airbus A380 into Toronto Pearson International Airport (YYZ). On April 22, 2016, it was Emirates A380-861 registered as A6-EOC. What's kind of hard to grasp is the fact that, despite these being the only three scheduled weekly A380 flights into Canada, regardless of airline, Emirates has 84 of these two level planes in their fleet (with another 58 on order).
To get the full sized version of any of the images included in the gallery below, just click on the individual image. Below the gallery, there is more information on the this specific airplane, Airbus A380's in general and the airline.
A6-EOC Emirates Airbus 380 Photo Gallery
A6-EOC
This particular airplane took its first flight in June, 2014 and was delivered to Emirates in November of the same year. A6-EOC is configured with 14 first class, 76 business class and 401 economy class seats for a total of 491 potential passengers.
Airbus A380-800
The double decker Airbus A380 was first introduced in October, 2007. Singapore Airlines was the first airline to fly this revolutionary airliner. Currently, A380s fly to 48 of the world's airports. Just nine of those destinations are in North American and just one is in Canada (Toronto Pearson). As of September 30, 2016, there were 195 Airbus A380s in service, split among 13 airlines. Nearly half carry the Emirates Airlines colours.
At 73 metres or 239 feet in length, the A380 is just seven feet longer than a Boeing 747-400. However, the wingspan, at 80 metres or 262 feet, is 50 feet more than the 747-400. At the tail, the Airbus A380 stand 24 metres or 79 feet in height – about the height of a ten story building.
Emirates Airlines
Part of the Emirates Group and owned by the Government of Dubai, Emirates Airlines is based in Dubai, United Arab Emirates. The main hub for the airline is Dubai International Airport.
The airline has a fleet of 232 airplanes and flies to 136 destinations worldwide. As of August, 2016, 84 of those 232 planes were Airbus A380s with 58 more on order. That number is four times more than the next airline, Singapore Airlines. Emirates was the second to fly the A380, after the same Singapore Airlines.
Emirates Airlines is headquartered in Garhoud, Dubai, UAE. The airline was founded and commenced operations in 1985.
More Like This: