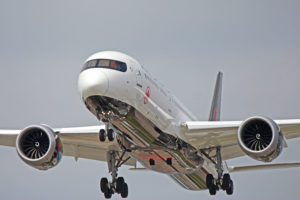 It's About Airplanes was started as a companion website to our main It's About Travelling. Long, had we tried to integrate our love of plane spotting into the travel based main site. It was finally decided in the latter half of 2016 that the aircraft photography simply needed it's own place. It's About Airplanes was born and is now receiving equal amounts of, if not more, traffic than the main website.
We strive to add new content each day. The articles are structured to feature a single airliner with a photo gallery and detailed information about that specific aircraft, the airplane model and the airline. All photos are taken by us. You are welcome to use these images – we really would appreciate a credit and link to the website if you do.
Based, but not necessarily limited to, Toronto Pearson International Airport (YYZ), our primary airlines are Air Canada, WestJet and Air Transat. However, a number of airlines from around the world fly into Toronto and we do our best to capture them all.
Where To Start?
Looking for something specific? You'll find an easy to use search box at the upper right side of every single page. Just enter the registration number, airline, aircraft model or any other search term and you'll be directed toward what you're looking for. Just browsing? You probably want to start here, at our Airplane Index. This is an alphabetical listing of all the airliners we've featured, sorted first by airline then by registration number.
Just In Case You Were Wondering…
Advertisements appear throughout the website. We try to make it as little distracting as possible and try to put up only ads to products that visitors to this website would enjoy and find useful. Yes, we stand to make a small commission if you go through these to any of the advertisers. We appreciate it very much if you do as the costs of web hosting, travel to and from the airport(s) and camera equipment are quite expensive..
It's About Airplanes On Social Media
We can be found on various social media platforms and would love to get together with you there. On Twitter and Instagram we're not the kind of dicks that don't follow back! Follow us and we'll follow you (and not unfollow a day later when you're not looking)…
"We are a participant in the Amazon Services LLC Associates Program, an affiliate advertising program designed to provide a means for us to earn fees by linking to Amazon.com and affiliated sites."