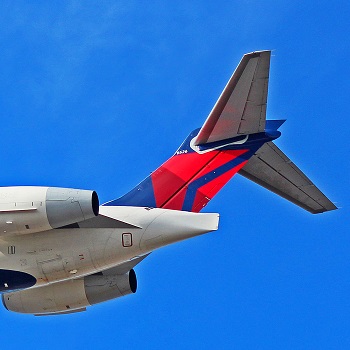 Delta Air Lines commenced operations in 1929 and is headquartered in Atlanta, Georgia. The airline is a founding member of the SkyTeam Alliance, along with AeroMexico, Air France and Korean Air. The alliance now has 20 full member airlines and is headquartered at Amsterdam Airport Schiphol.
Delta has a main fleet of over 850 aircraft. Once their Boeing 747-400 models have been phased out by the end of 2017, the Airbus A350-900 will be their largest aircraft. The airline uses these airplanes to fly to 319 destinations around the world.
Some former U.S. carriers that have been swallowed up by the Delta juggernaut include Northeast Airlines, Northwest Airlines, Pan American World Airways and Western Airlines.
List of Delta Air Lines Airplanes
N379CA Bombardier CRJ-700 (Delta Connection/GoJet Airlines)
N607SK Bombardier CRJ701ER (Delta Connection/SkyWest Airlines)
N686BR Bombardier CRJ-200ER (Delta Connection/Endeavor Air)