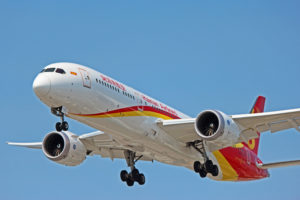 One of the more colourful airlines flying to Canada from China, B-1543 is a Boeing 787-9 Dreamliner belonging to Hainan Airlines. One of 12 B789 aircraft in the Hainan fleet, we photographed this particular one on July 21, 2017 while plane spotting at Toronto Pearson International Airport (YYZ).
For full-size, high resolution versions of any of the photos in the image gallery, simply click on the individual pictures. See below for more detailed information on B-1543, the Boeing 787-9 Dreamliner model in general and the airline.
B-1543 Hainan Airlines Boeing 787-9 Dreamliner Image Gallery
B-1543
B-1543 took its first flight on October 19, 2016 and was delivered to Hainan Airlines on November 11, 2016. One of 12 Boeing 787-9 Dreamliner aircraft in the fleet, this airliner is configured for a maximum total of 288 passengers with 30 seats in business class and 258 more in economy class.
Boeing 787-9 Dreamliner
The Boeing 787-9 Dreamliner took its first flight on September 17, 2013 and entered service with New Zealand on July 8, 2014. This came after the original variant, the 787-8 was introduced in October, 2011 with All Nippon Airways.
The 787-9 is six metres or 20 feet longer that the B788 variant but both share the same wingspan. The aircraft is 63 metres or 206 feet in length with a wingspan of 60 metres or 197 feet. At the tail, the airplane stands 17 metres or 56 feet in height.
The flight range for the B789 is 14,140 kilometres. This distance is over 500 KM more than the 787-8. The 'coming soon' Boeing 787-10 model will have a range of just 11,908 KM.
Hainan Airlines
Founded in 1993, the airline has roots in Hainan Province Airlines which was established in 1989. The name changed to Hainan Airlines in 1996. The airline is headquartered in Haikou, Hainan, China and has a fleet of 185 aircraft flying to 110 destinations worldwide. The destination total includes subsidiaries (Chang An Airlines, China Xinhua Airlines, Fuzhou Airlines, Yunnan Lucky Air, Shan Xi Airlines, Urumqi Airlines, Beijing Capital Airlines), all under the parent company Grand China Air.
Currently, the Airbus A330-300 and the Boeing 787-9 are the largest carriers in the fleet. Starting in 2020, Hainan Airlines will start to receive delivery of their 20 Comac C919 aircraft that are currently on order. The C919 is made in China and will be 39 metres or 128 feet in length with a wingspan of 36 metres or 118 feet. At the tail, this competitor to the Boeing 737 MAX, Bombardier CS300 and Airbus A320neo will be 12 metres or 39 feet in height. The flight range will be 4,075 kilometres with an ER version that can fly 5,555 KM.
Resources
More Like This: