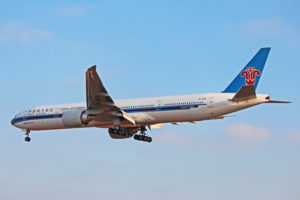 Some liveries don't have to be flashy to be cool. I've mentioned before that the China Southern Airlines livery has a retro feel that makes you nostalgic for the 1970's. We photographed B-2029 on December 3, 2017 while plane spotting at Toronto Pearson International Airport (YYZ). This is one of ten Boeing 777-300ER in the fleet with eight more to be delivered in the coming years.
For full-size, high resolution versions of any of the photos in the image gallery, simply click on the individual pictures. See below for more detailed information on B-2029, the Boeing 777-300ER model in general and the airline.
B-2029 China Southern Airlines Boeing 777-300ER Image Gallery
B-2029
B-2029 took its first flight on August 6, 2015 and was delivered to China Southern Airlines on August 27, 2015. As mentioned, this is one of ten Boeing 777-300ER aircraft currently in the CSAir fleet with more on the way, starting in 2019.
This B77W is configured for a maximum total of 309 passengers. There are four seats in first class and 34 more in business class, along with 44 seats in premium economy and 227 in economy class.
Boeing 777-300ER
The Boeing 777-300ER first entered service in 2004 with Air France. This came nearly a decade after the initial variant of the Boeing 777 was introduced with United Airlines in 1995. The ER stands for extended range and this aircraft can fly up to 13,650 kilometres in a single flight.
The B77W is 74 metres or 242 feet in length with a wingspan of 65 metres or 213 feet. At the tail, the aircraft stands 19 metres or 61 feet in height. This makes it 10 feet longer than the Boeing 747-400 with a wingspan about two feet wider.
China Southern Airlines
China Southern Airlines was founded on July 1, 1988 and is headquartered in Guangzhou, Guangdong, China. CSAir joined the SkyTeam Alliance in 2007, the eleventh airline to join the now 20 strong alliance.
The airline has a fleet of 546 aircraft, including 14 airplanes strictly used for cargo. These airliners fly to 208 destinations around the world. The fleet includes five Airbus A380-800 models while the Boeing 737-800 is the most numerous with 154 in service. China Southern has 20 Comac C919 airplanes on order for deliveries starting in 2020. This is a China produced airliner that will compete against the Bombardier C Series.
Resources
More Like This: