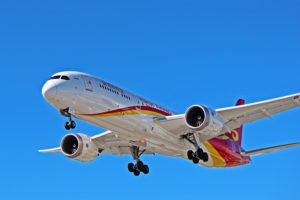 We caught up with this Boeing 787-9 Dreamliner before it had even been in service for a full month. B-6969, with its somewhat x-rated registration number, was delivered to Hainan Airlines on May 9, 2017 and the images in the gallery below were taken on June 8, 2017.
For full-size, high resolution versions of any of the photos in the image gallery, simply click on the individual pictures. See below for more detailed information on B-6969, the Boeing 787-9 Dreamliner model in general and the airline.
B-6969 Hainan Airlines Boeing 787-9 Dreamliner Image Gallery
B-6969
B-6969 made its first flight on April 14, 2017 and was delivered to Hainan Airlines on May 9, 2017. The images above were taken on June 8, 2017 at Toronto Pearson International Airport (YYZ). The Boeing 787-9 is configured for a total maximum of 292 passengers with 30 seats in business class and 262 more in economy.
Boeing 787-9 Dreamliner
The first Boeing 787-9 Dreamliner made its first flight on September 17, 2013 and entered service with Air New Zealand on July 8, 2014. This model follows the 787-8 which was introduced in October, 2011 with All Nippon Airways.
The 787-9 is 63 metres or 206 feet in length with a wingspan of 60 metres or 197 feet. At the tail, the aircraft stands 17 metres or 56 feet in height. This aircraft is six metres or 20 feet longer than the 787-8. It can also fly about 500 KM more than the -8 with a range of 14,140 kilometres.
Hainan Airlines
Hainan Airlines was founded in 1993 and is headquartered in Haikou, Hainan, China. The airline has a fleet of 181 aircraft and flies to 110 destinations (subsidiaries included). At present, the Airbus A330-300 and the Boeing 787-9 are Hainan's largest carriers, each with a capacity for 292 passengers.
Starting in 2020, Hainan Airlines is set to start adding 20 Comac C919 aircraft to the fleet. This is an airliner currently being developed in China and will compete directly with the Boeing 737 MAX, Airbus A320neo and Bombardier CS300. The C919 will have a length of 39 metres or 128 feet with a wingspan of 36 metres or 118 feet. At the tail, the aircraft will stand 12 metres or 39 feet in height.
The flight range for the Comac C919 will be 4,075 kilometres (5,555 KM for the ER version). This means we won't be seeing Hainan fly these airplanes in North America. The C919 will have capacity for 168 passengers in a single class configuration and 158 in a two class system.
Resources
More Like This: