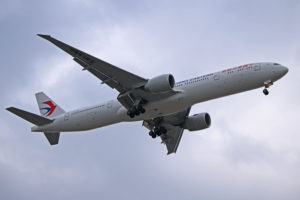 One of 20 Boeing 777-300ER aircraft in the China Eastern Airlines fleet, B-7343 is the third of those 20 we've photographed, so far. We captured this B77W while plane spotting at Toronto Pearson International Airport (YYZ) on January 28, 2018. This is a relative newby to the skies, just celebrating the second anniversary of its maiden flight.
For full-size, high resolution versions of any of the photos in the image gallery, simply click on the individual pictures. The photographs were taken with a Canon Rebel T6i – a great, affordable DSLR camera. See below for more detailed information on B-7343, the Boeing 777-300ER model in general and the airline.
B-7343 China Eastern Airlines Boeing 777-300ER Image Gallery
B-7343
B-7343 took is first flight on February 10, 2016 and was delivered to China Eastern Airlines on April 5, 2016. This Boeing 777-39PER is one of 20 B77W airliners in the CEAir fleet. The aircraft is configured for a maximum total of 316 passengers with six seats in first class, 52 more in business class and 258 seats in economy class. Currently, the Boeing 777-300ER is the largest in the China Eastern fleet.
Boeing 777-300ER
The first Boeing 777-300ER was delivered to Air France in 2004, around a decade after the first Boeing 777 variant came on the scene in 1995 with United Airlines. The aircraft is 74 metres or 242 feet in length with a wingspan of 65 metres or 213 feet. This actually makes it ten feet longer and about two feet wider than the iconic Boeing 747-400. The upcoming Boeing 777-9 will be nearly ten feet longer than the B77W. At the tail, the Boeing 777-300ER is 19 metres or 61 feet in height. The flight range s 13,650 kilometres.
China Eastern Airlines
China Eastern Airlines was founded in June, 1988 and is a member of the SkyTeam Alliance. The airline is headquartered on the grounds of Shanghai Hongqiao International Airport in Shanghai, China, within the China Eastern Airlines Building. This is China's second largest carrier by passenger count.
The Chinese airline has a fleet of nearly 490 aircraft flying to close to 220 destinations around the world. Of that fleet, the Boeing 777-300ER is the largest while the Airbus A320-200 is the most numerous.
Resources
More Like This: