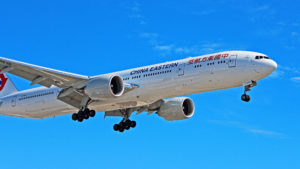 Images of a brand new (2 months old) Boeing 777-300ER landing at Toronto Pearson International Airport in Mississauga, Ontario. The airplane, registered B-7365, belongs to China Eastern Airlines. Click the images below for full size versions of each. See below for more detailed information.
China Eastern Boeing 777-300ER Images
B-7365
This Boeing 777-39PER took it's first flight a short time ago in July, 2016. The airplane was delivered to China Eastern on August 10, 2016 and is based in Shanghai, China. The current configuration is for a total of 316 passengers with six seats in first class, 52 in business class and 258 in economy class.
Boeing 777-300ER
The first -300ER version of the popular Boeing 777 was delivered to Air France in 2004. The original Boeing 777 was introduced to the aviation market in 1995. The 'ER' stands for extended range.
The airplane pictured above has a capacity for 316 passengers. However, the maximum capacity is for 550 in a single class configuration. The Boeing 777-300ER can carry those passengers a maximum of 13,650 kilometres.
This airplane is 242 feet or 74 metres in length with a wingspan of 213 feet or 65 metres. At the tail, she is 61 feet or 19 metres high.
China Eastern Airlines
China Eastern was founded in 1988 and is headquartered at Shanghai Hongqiao International Airport in Shanghai, China. The airline has a fleet of 443 airplanes and boasts 217 destinations worldwide. There are currently 15 Boeing 777-300ERs in the fleet with five more on order.
The airline is a member of the SkyTeam Alliance. The alliance has 20 full member airlines and was started in 2000. It is the last of the big three alliances, behind Star Alliance and Oneworld. Through the alliance, some 3,054 airplanes fly to 1,062 airports in 177 countries.
SkyTeam is headquartered at Amsterdam Schiphol Airport in the Netherlands. China Eastern Airlines is a newcomer to the alliance, joining in 2011.
a
More Like This: