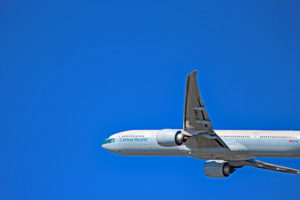 Another set of photos from a not so optimal day at Toronto Pearson International Airport (YYZ). B-HNR was taking off, like the rest of the airplanes that day, on runway 33R which sends airplanes north.
For full-size, high resolution versions of the images of this Cathay Pacific Boeing 777-300ER in the gallery below, simply click on the individual pictures. See below for more detailed information on this specific airplane, the Boeing 777-300ER model in general and Cathay Pacific.
B-HNR Cathay Pacific Boeing 777-300ER Image Gallery
B-HNR
This Boeing 777-367ER took its first flight on August 20, 2015 and was delivered to Cathay Pacific on September 28, 2015. This is one of 53 Boeing 777-300ER aircraft in the Cathay Pacific fleet. The airplane is configured for a total maximum of 340 passengers with 40 seats in business class, 32 more in premium economy and 268 in economy class.

Boeing 777-300ER
Often the largest aircraft in many airline's fleets, the Boeing 777-300ER is 74 metres or 242 feet in length with a wingspan of 65 metres or 213 feet. At the tail, the airplane stands 19 metres or 61 feet in height.
The first -300ER model was delivered to Air France in 2004. The original version of the Boeing 777 was introduced with United Airlines in 1995.
The ER stands for extended range and this plane can travel up to 13,650 kilometres in a single flight. This is 2,500 KM more than the base -300 model.

Cathay Pacific
Cathay Pacific was founded in 1946 and is headquartered at Hong Kong International Airport (HKG) in Chek Lap Kok, Hong Kong. CP flies to 180 destinations worldwide and is was a founding member of the OneWorld Alliance back in 1999. OneWorld has 14 members and the other founding members include American Airlines, British Airways, the defunct Canadian Airlines and Qantas.
The Cathay Pacific fleet consists of 143 aircraft, including their cargo division. The largest passenger plane in the fleet is the Boeing 777-300ER and also represents the largest part of the fleet with 53 aircraft. However, there are 21 Boeing 777-9 on order with no delivery date set. That aircraft will become their largest passenger carrier. The cargo division has 21 Boeing 747 aircraft with the largest being the 14 Boeing 747-8F.

Resources
Hong Kong International Airport
More Like This: