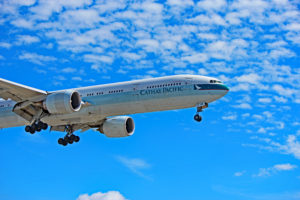 The images of B-KQB, a Boeing 777-300ER belonging to Cathay Pacific, nearly never happened. The camera was packed and in the bag but not zipped yet when the sound of something big filled the air. The photos below were taken on September 25, 2016 at Toronto Pearson International Airport (YYZ) in Mississauga, Ontario.
For full-sized high definition versions of the pictures in the gallery, simply click on the individual photos. For more information on this specific aircraft, Boeing 777-300er's in generals and the airline, see below.
B-KQB Cathay Pacific Boeing 777-300ER Image Gallery
B-KQB
Officially a Boeing 777-367ER, B-KQB took its first flight on April 19, 2012. The airliner was delivered to Cathay Pacific on May 7, 2012. Currently, the airplane is configured with 40 seats in business class, 32 in premium economy and 268 more in economy class for a total capacity for 340 passengers.
On the flight deck, the airplane takes a crew of four for long haul flights and two for domestic. Serving passengers is a cabin crew of 13. This is one of 53 Boeing 777-300ER's in service for Cathay Pacific. The airline was the first to fly an version of the 777-300.

Boeing 777-300ER
The Boeing 777-300ER, or B77W, is used by many as a replacement for the Boeing 747-400 because it uses 20% less fuel. The -300ER is definitely the most popular version of the 777 family at the moment. In a single class configuration, the plane could hold up to 550 passengers. In a two class, that number is reduced to a much less crowded, but still tight 396.
The airplane is 242 feet or 74 metres long with a wingspan of 213 feet or 65 metres. At the tail, the Boeing 777-300ER stands 61 feet or 19 metres high. The flight range is 13,650 kilometres. This is around 2,500 km more than the 777-300 but 2,200 km less than the Boeing 777-200LR.
This type of aircraft was involved in an incident on June 27, 2016. A Boeing 777-300ER belonging to Singapore Airlines was on a flight from Singapore to Milan, Italy. There was an oil leak in the right engine and the airplane returned to Singapore Changi Airport. During landing, the right engine caught fire, causing serious damage. No one on the flight was injured.

Cathay Pacific
Founded in 1946, Cathay Pacific is headquartered at Hong Kong International Airport in Chek Lap Kok in Hong Kong. Including cargo planes, the airline's fleet is 143 strong, traveling to 180 destinations world wide.
Cathay Pacific is a founding member of the OneWorld Alliance. OneWorld came together in 1999 and now consists of 14 member airlines. Other founding members include American Airlines, British Airways, Canadian Airlines and Qantas. Canadian Airlines has since been acquired by Air Canada, a member of the Star Alliance. OneWorld is headquartered in New York City.
The airline's last incident involving passenger deaths was way back in 1972. A Cathay Pacific Convair 880 was flying from Bangkok, Thailand to Hong Kong when the plane exploded over Vietnam due to a bomb on board. All 81 aboard were killed.
The last major incident for the airline came in April, 2010. A Cathay Pacific Airbus A330-300 had both engines fail due to contaminated fuel but was able to land safely. 57 passengers were injured from the slide evacuation.

Resources
Hong Kong International Airport
More Like This: