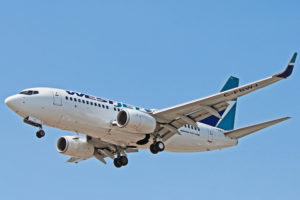 When it comes to Canadian based airlines, there is no larger collection of a single type of aircraft than WestJet's Boeing 737-700 models. C-FBWJ is one of 56 in the fleet. Air Canada has their 42 Airbus A320-200 with 50 Boeing 737 MAX 8 airliners to enter the fleet in the near future. However, AC's overall fleet is larger than WestJet's with a more diverse collection of airplanes.
We photographed this particular aircraft while plane spotting at Toronto Pearson International Airport (YYZ) on July 21, 2017. For full-size, high resolution versions of any of the photos in the image gallery, simply click on the individual pictures. See below for more detailed information on C-FBWJ, the Boeing 737-700 model in general and the airline.
C-FBWJ WestJet Boeing 737-700 Image Gallery
C-FBWJ
C-FBWJ took its first flight on December 15, 2004 and was delivered to WestJet on January 10, 2005. This Boeing 737-700 has room for a maximum total of 134 passengers with 12 seats in premium economy and 122 more in economy class. As mentioned, this is one of 56 Boeing 737-700 airliners in the WestJet fleet.
Boeing 737-700
The initial variant in the Boeing 737 Next Generation Family, the Boeing 737-700 first entered service in 1998 with Southwest Airlines. Southwest remains the primary user of this model. The aircraft is 34 metres or 110 feet in length with a wingspan (with winglets installed) of 36 metres or 118 feet. That wingspan is shared across the entire 737 NG Family. At the tail, the airliner stands 13 metres or 41 feet in height. The flight range is 5,570 kilometres.
WestJet
Founded in 1996, WestJet is headquartered in Calgary, Alberta, Canada. The airline has a 121 aircraft in their main fleet, flying to 91 destinations. These numbers do not included subsidiary WestJet Encore or their ultra low cost carrier brand, Swoop, that will commence operation in the summer of 2018.
WestJet's destinations are found in Canada, the United States, Europe, Mexico, Central America and the Caribbean. However, with Boeing 787-9 Dreamliner airliners on order, their reach will expand. The current fleet consists of Boeing 737 NG models, Boeing 767-300ER airliners and the first few Boeing 737 MAX orders to trickle in.
Resources
More Like This: