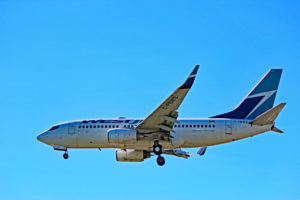 Just a few months before the images in the gallery below were taken, C-FBWS had a scary issue flying from Calgary to Phoenix. There was smoke in the cockpit and the WestJet Boeing 737-700 had to be diverted. All worked out well, more details below the gallery.
For full-size, high resolution versions of any of the photos in the image gallery, simply click on the individual pictures. See below for more detailed information on C-FBWS, the Boeing 737-700 model in general and the airline.
C-FBWS WestJet Boeing 737-700 Image Gallery
C-FBWS
C-FBWS made its first flight on October 20, 2009 and was delivered to WestJet on November 9, 2009. This is one of 56 Boeing 737-700 aircraft in the WestJet fleet. The airplane is configured for a total maximum of 130 passengers with 12 seats in business class and 118 more in economy class.
On March 11, 2017, C-FBWS was flying from Calgary, Alberta to Phoenix, Arizona. At 39,000 feet, 100 miles south of Salt Lake City, Utah, an emergency was declared when smoke was reported in the cockpit. The Boeing 737-700 was diverted to Salt Lake City, landing safely. An audio panel was determined to be the cause of the smoke and was replaced.

Boeing 737-700
The first of the next generation Boeing 737 models, the Boeing 737-700 entered service in 1998 with Southwest Airlines. Southwest remains the primary user of this model of aircraft.
The airplane is 34 metres or 110 feet in length with a wingspan (with winglets) of 36 metres or 118 feet. This wingspan is common across all NextGen models (-600, -700, -800, -900ER). At the tail, the aircraft is 13 metres or 41 feet in height. This is actually two centimetres taller than the -800 and -900 models. The flight range for the Boeing 737-700 is 5,570 kilometres.

WestJet
WestJet was founded in 1996, originally as a Canadian low cost carrier. It has evolved to be a direct competitor with Air Canada. The airline is headquartered in Calgary, Alberta. There are 119 aircraft in the WestJet fleet, excluding the Bombardier Dash 8 Q400 aircraft that fly for WestJet Encore.
Currently, the fleet consists of Boeing 737-700, 737-800 and 737-600 models, along with newly acquired Boeing 767-300ER aircraft. On order for the growing airline are 15 Boeing 737 Max 7, 25 Boeing 737 Max 8 and ten Boeing 787-9 Dreamliner airplanes.
WestJet currently flies to 92 destinations in Canada, United States, Europe, Mexico, Central America and the Caribbean.

Resources
More Like This: