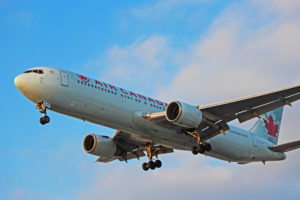 Yet another aging Boeing 767-300ER in the Air Canada fleet that originally flew for rival Canadian Airlines. C-FCAF was transferred to Air Canada on March 29, 2001 when Canadian was acquired by Canada's largest airline. We photographed this B763 on December 3, 2017 while plane spotting at Toronto Pearson International Airport (YYZ).
For full-size, high resolution versions of any of the photos in the image gallery, simply click on the individual pictures. See below for more detailed information on C-FCAF, the Boeing 767-300ER model in general and the airline.
C-FCAF Air Canada Boeing 767-300ER Image Gallery
C-FCAF
C-FCAF took its first flight on May 5, 1988 and was delivered to Canadian Airlines on May 13, 1988. The Boeing 767-375ER was transferred to Air Canada on March 29, 2001 after the airline acquired their main rival. This is one of nine B763 aircraft that remain in the fleet with five slated to be phased out by the end of 2018. There are 24 more in the fleet of wholly owned subsidiary Air Canada Rouge.
The airliner is configured for a maximum total of 211 passengers with 24 seats in business class and 187 more in economy class. This is substantially less of a capacity than the Boeing 767's in the Rouge fleet with those packing in up to 282 passengers.
On July 30, 2012, C-FCAF was flying from Vancouver, British Columbia to Beijing, China. Nearly over Fairbanks, Alaska, the right hand engine was acting up and the crew returned to Vancouver for a safe landing six hours after departing.
On September 2, 2016, the B763 was flying from Montreal, Quebec to Lyon, France. On final approach, crew selected 'flaps 20' but received a LE FLAP ASYM message. After aborted the approach and going around once, the aircraft was able to land safely but at a slightly higher speed than normal. The incident resulted in the Flap Slat Electronic Unit being replaced.
Boeing 767-300ER
The Boeing 767-300ER first entered service with American Airlines in 1988, seven years after the initial 767 variant was introduced with United Airlines in 1981. In all, 583 of this aircraft were delivered. The B763 is 55 metres or 180 feet in length with a wingspan of 48 metres or 156 feet. At the tail, the airliner stands 16 metres or 52 feet in height. The flight range is 11,070 kilometres.
Air Canada
Air Canada was founded in 1937 as Trans Canada Air Lines and officially commenced operations under the current name on January 1, 1965. Headquartered on the grounds of Montreal Pierre Elliott Trudeau International Airport (YUL) in Dorval, Quebec, the airline is a founding member of the Star Alliance. Other founding members include Lufthansa, Scandinavian Airlines, Thai Airways and United Airlines. There are now 27 full member airlines worldwide.
The airline flies to around 350 destinations around the world with a fleet of over 400 aircraft (numbers include subsidiaries Air Canada Rouge and Air Canada Express). The largest in the fleet is the Boeing 777-300ER and the most numerous in the main fleet is the Airbus A320-200.
Resources
More Like This: