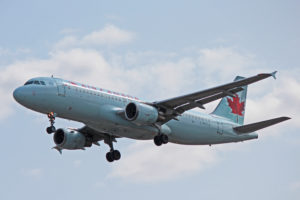 Another of Air Canada's workhorse Airbus A320-200 aircraft to start with Canadian Airlines. We photographed C-FDCA while plane spotting at Toronto Pearson International Airport (YYZ) on August 25, 2017.
For full-size, high resolution versions of any of the photos in the image gallery, simply click on the individual pictures. See below for more detailed information on C-FDCA, the Airbus A320-200 model in general and the airline.
C-FDCA Air Canada Airbus A320-200 Image Gallery
C-FDCA
C-FDCA took its first flight on July 17, 1991 and was delivered to Canadian Airlines on October 3, 1991. When Canadian was acquired by Air Canada in 2001, the Airbus a320 was transferred to the main fleet on April 4, 2001. Along the way, the airliner spent time in Air Canada's Jetz division.
One of 42 Airbus A320 aircraft in the airline's fleet, C-FDCA is configured for a maximum total of 146 passengers. There are 14 seats in business class, along with 36 in preferred seating (premium economy) and 96 more seats in economy class.
On August 12, 2013, the Airbus A320 encountered some turbulence on a flight from Los Angeles, California to Toronto, Ontario, over Denver, Colorado. During the turbulence, a flight attendant was injured with what turned out to be minor injuries. The flight continued to its destination.
On October 19, 2015, C-FDCA was flying from Los Angeles to Montreal, Quebec. On the acceleration for takeoff, the crew received an 'ENG1 REVERSER UNLOCKED' message and rejected the takeoff. The incident resulting in the replacement of the left hand engine door blocker door switches.
On December 15, 2016, the Airbus A320 came across the same problem. On a flight from Ottawa, Ontario to Montreal, the same message was received while climbing out of Ottawa. The aircraft returned to YOW for a safe landing. This resulted in the replacement of the thrust reverser outboard upper blocker door latch and fitting roller.
Airbus A320-200
The Airbus A320 was introduced in 1988 with Air France. Since, nearly 4,400 have been put into service. The original variant of the Airbus A320 Family, this model is shorter than the A321 but longer than the A319 and A318.
This airliner is 38 metres or 123 feet in length with a wingspan of 36 metres or 118 feet. At the tail, the airplane stands 12 metres or 39 feet in height. The flight range for the A320 is 6,100 kilometres.
Air Canada
Founded in 1937 as Trans-Canada Air Lines, Air Canada is headquartered on the grounds of Montreal Pierre Elliott Trudeau International Airport (YUL) in Dorval, Quebec. The airline flies to 200 destinations around the world with a fleet of around 175 aircraft. Including subsidiaries, those numbers increase to 350 destinations with 387 airplanes.
Air Canada is a founding member of the Star Alliance. The alliance now has 27 full members. Other founding members include Lufthansa, Scandinavian Airlines, Thai Airways and United Airlines.
Resources
Los Angeles International Airport
Montreal Pierre Elliott Trudeau International Airport
Ottawa MacDonald-Cartier International Airport
More Like This: