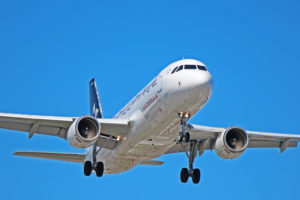 C-FDRK had ongoing issues with getting an avionics smoke indication between 2012 and 2013, apparently a problem with the A320 model. However, the nearly three decade old Airbus A320-200 got over the problems and is still flying for Air Canada. Today, it wears the Star Alliance livery in honour of the airline alliance it Air Canada helped found.
For full-size, high resolution versions of any of the photos in the image gallery below, simply click on the individual pictures. See below for more detailed information of C-FDRK, the Airbus A320 model in general, the airline and the Star Alliance. Photos were taken while plane spotting at Toronto Pearson International Airport (YYZ).
C-FDRK Air Canada Airbus A320 Image Gallery
C-FDRK
C-FDRK made its first flight on December 18, 1989 and was delivered to Air Canada on March 13, 1990. The Airbus A320-211 is currently configured for a total maximum of 146 passengers with 14 seats in business class, 36 more in premium economy and 96 in economy class.
On April 20, 2012, C-FDRK was flying from Miami, Florida to Toronto, Ontario when the Airbus A320 received the avionics smoke indication on their initial climb out of Miami. An emergency was declared and the aircraft returned safely to Miami. No trace of fire or smoke was detected and the avionics equipment ventilation computer was reset.
Later that year, on August 18, 2012, the airplane was flying from Edmonton, Alberta to Toronto, Ontario. Again, while climbing out of Edmonton, the avionics smoke indication was received. The Airbus A320 returned to Edmonton for a safe landing. This time, the avionics smoke detector was replaced.
Over a half year later, C-FDRK was flying from Fort Lauderdale, Florida to Montreal, Quebec when the same old problem came up while climbing out of Fort Lauderdale. After safely returning to the departure airport, this time the avionics equipment ventilation controller was replaced. This seems to have stopped the problem.
However, a different issue struck the airliner on May 20, 2014 when flying from Toronto to Winnipeg, Manitoba. This time, an indication of low quantity and low pressure for the green hydraulic system was received. The Airbus A320 safely continued to Winnipeg but had to be towed off the runway due to no nose wheel steering. The green engine hydraulic pump was replaced.
Airbus A320
The first Airbus A320 was introduced with Air France in 1988. Well over 4,000 of the aircraft have been built since. The aircraft is 38 metres or 123 feet in length with a wingspan of 36 metres or 118 feet. At the tail, the airplane is 12 metres or 39 feet in height. The flight range is 6,100 kilometres.
Air Canada
Air Canada was founded in 1937 as Trans-Canada Air Lines with the name change coming in 1965. There are over 170 aircraft in the main fleet, flying to 200 destinations worldwide. When subsidiaries are added in, those numbers balloon to nearly 400 aircraft and around 350 destinations.
The airline is headquartered at the Air Canada Centre on the grounds of Montreal Pierre Elliott Trudeau International Airport (YUL) in Dorval, Quebec. Current subsidiaries include Air Canada Express and Air Canada Rouge.
Star Alliance
The Star Alliance was founded on May 14, 1997 and headquartered in Frankfurt am Main, Germany. The founding members include Air Canada, Scandinavian Airlines, Thai Airways International, Lufthansa and United Airlines. There are now 27 full members with no new airlines planning to join at the moment.
With all member airlines added up, Star Alliance flies to 1,330 destinations in 192 countries around the world with a fleet of 4,657 aircraft. By passenger count, Star is the largest of the big three airline alliances, ahead of SkyTeam and Oneworld.
Resources
More Like This: