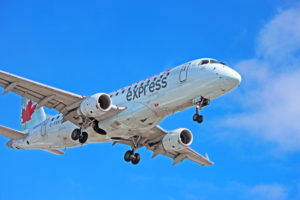 2012 was not a good year for C-FEKH. The Air Canada Express Embraer ERJ-175 had three separate incidents that year, all with emergency declared upon landing. At the time, the airplane belonged to Air Canada. Now, the Embraer ERJ-175 is owned by Sky Regional Airlines but flies with the Air Canada Express livery.
For full-size, high resolution versions of any of the photos in the image gallery below, simply click on the individual pictures. See below for more detailed information on this specific aircraft and its 2012 incidents, along with info on the Embraer ERJ-175 model in general and the airline.
C-FEKH Air Canada Express Embraer ERJ-175 Image Gallery
C-FEKH
C-FEKH is an Embraer ERJ-175-200SU that was delivered to Air Canada on November 2, 2005. The aircraft was transferred to Sky Regional Airlines on June 18, 2013 and flies under the brand Air Canada Express. The airplane is configured for a total of 73 passengers, nine in business class, 20 in premium economy and 44 in economy class.
On February 14, 2012, C-FEKH was flying from Newark, New Jersey to Toronto, Ontario when the crew received a SLAT FAIL message. After aborting the approach, emergency services were put on standby and the Embraer ERJ-175 landing safely but at higher than normal speed. A defective slat/skew sensor was replaced on the right hand outboard wing.
On July 25, 2012, the airplane was flying from Montreal, Quebec to New York's La Guardia Airport. Just outside La Guardia, the airplane diverted to Newark due to that airport's longer runways. An emergency was declared with the aircraft having trouble with spoilers and thrust reversers. The Embraer ERJ-175 landed safely at Newark. The network interface controller/processor was replaced.
On October 8. 2012, the airplane once again experienced problems with the slats and flaps. On a flight from Chicago, Illinois to Toronto, Ontario, the aircraft did land safely though emergency services were requested. The problem was solved by the crew and no fault was found.

Embraer ERJ-175
Part of the Embraer E-Jet Family, the ERJ-175 made its first flight in June, 2003 and entered service with Air Canada in July, 2005. The aircraft is 32 metres or 104 feet in length with a wingspan of 29 metres or 94 feet. At the tail, the airplane stands ten metres or 32 feet in height. The cruise range is less than 4,000 kilometres.

Air Canada Express
Founded in 2011, Air Canada Express is a subsidiary of Air Canada that operates regional flights, flown by Air Georgian, Exploits Valley Air Services, Jazz Aviation and Sky Regional Airlines. The overall fleet consists of 171 aircraft that fly to 119 destinations. Air Canada Express is headquartered in Montreal, Quebec.

Sky Regional Airlines
Sky Regional Airlines commenced operations under the Air Canada Express brand on May 1, 2011. The airline has a fleet of 25 Embraer ERJ-175 aircraft flying to 24 destinations. The airline is headquartered on the grounds of Toronto Pearson International Airport (YYZ). They are a member of the Star Alliance, through affiliation with founding member Air Canada.

Resources
More Like This: