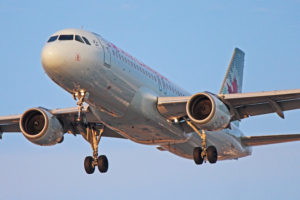 One of 42 Airbus A320-200 aircraft in the Air Canada fleet, C-FFWM has been around since 1991. Unfortunately, the airline will start phasing out their A320 fleet, beginning in mid 2018 and this airliner might not be around much longer.
For full-size, high resolution versions of any of the photos in the image gallery, simply click on the individual pictures. See below for more detailed information on C-FFWM, the Airbus A320-200 model in general and the airline.
C-FFWM Air Canada Airbus A320-200 Image Gallery
C-FFWM
C-FFWM took its first flight on January 4, 1991 and was delivered to Air Canada on March 6, 1991. As mentioned, this is one of 42 Airbus A320-200 aircraft in the main AC fleet. The airliner is configured for a maximum total of 146 passengers with 14 seats in business class, 36 more in premium economy and 96 seats in economy class.
On August 5, 2011, C-FFWM was performing a flight from Toronto, Ontario to Vancouver, British Columbia. On final approach to the destination, the A320 had to go around with the crew reporting a problem with the flaps. On the second approach, the aircraft landed safely. The cause was the flap interconnecting strut out of rig.
On November 20, 2013, C-FFWM was flying from Toronto to Vancouver. Approaching Calgary, Alberta, the left side generator went offline. The aircraft was diverted to Calgary for a safe landing. This incident resulted in the #1 integrated drive generator and the APU generator being replaced.
Airbus A320-200
The Airbus A320-200 was introduced in 1988 with Air France and is the initial variant in the Airbus A320 Family. Around 4,400 have been delivered. The extended version is the Airbus A321 at 23 feet longer. There are two shrunken versions: the A319 at 12 feet shorter and the A318 at 20 feet shorter.
This airliner is 38 metres or 123 feet in length with a wingspan of 36 metres or 118 feet. At the tail, it stands 12 metres or 39 feet in height. The flight range is 6,100 kilometres.
Air Canada
Founded in 1937 as Trans Canada Airlines, the carrier officially commenced operations under the Air Canada name on January 1, 1965. Now headquartered on the grounds of Montreal Pierre Elliott Trudeau International Airport (YUL), Air Canada is a founding member of the Star Alliance. Other founding members include Lufthansa, Scandinavian Airlines, Thai Airways and United Airlines. There are now 27 member airlines worldwide.
Air Canada flies to 350 destinations around the world (including subsidiaries) with a fleet of over 400 aircraft. The Boeing 777-300ER is the largest in that fleet while the Airbus A320-200 is the most numerous.
Resources
More Like This: