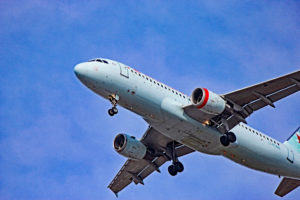 The images in the gallery below are of C-FFWN, an Airbus A320 belonging to Air Canada. The plane was landing at Toronto Pearson International Airport (YYZ) on November 5, 2016. What's interesting about the plane is the left side engine. Air Canada airliners do not normally have a red stripe around the front of the engines. This one does.
Click on any of the images in the gallery for the full-sized, high definition versions. See below the gallery for more detailed information on this specific aircraft, the airplane type in general and the airline.
C-FFWN Air Canada Airbus A320 Image Gallery
C-FFWN
This Airbus A320, registered C-FFWN, was delivered to Air Canada on March 4, 1991. It took it's first flight just days before on March 1, 1991. Currently, the airliner is configured with 14 seats in business class and 132 more in economy.
In recent years, C-FFWN has been involved in a few incidents. On January 6, 2012, the plane was on a flight from Calgary (YYC) to Toronto (YYZ). Just after takeoff, there were issues with the landing gear doors not closing. The Airbus A320 returned to Calgary and landed safely 40 minutes after departure.
On February 28, 2013, C-FFWN was flying from Cancun, Mexico to Toronto. The crew had a low air pressure message but continued on to Toronto and landed safely with emergency services on standby. Seals were replaced in the yellow system main high pressure check valve.

Airbus A320
The Airbus A320 has been around since 1988. Only two variants have ever been produced and the A320-100 was limited to 21. Maximum seating for this aircraft is 186, well above C-FFWN's total of 146 passengers.
The plane is 38 metres or 123 feet in length. The wingspan is 36 metres or 118 feet. At the tail, the aircraft is 12 metres or 39 feet in height.

Air Canada
Headquartered in Montreal, the airline's offices are located at the Air Canada Centre on the grounds of the Montreal Pierre Elliott Trudeau International Airport (YUL). Air Canada has a fleet of 169 aircraft and travels to 200 destinations worldwide. That destination count has increased by nearly 20 locations between the summer of 2016 and December, 2016.
Air Canada was founded in 1937 and was originally named Trans-Canada Air Lines. On January 1, 1965, the name was changed to its present form. Air Canada is a founding member of the Star Alliance, along with Lufthansa, Scandinavian Airlines, Thai Airways and United Airlines. Star Alliance now includes 27 total airlines.

Resources
More Like This: