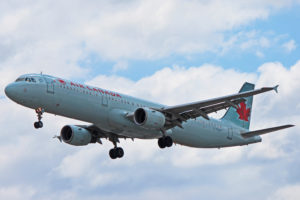 C-FGKP spent much of its life, to date, with Air France. However, in 2015, the Airbus A321-200 was brought into the Air Canada main fleet. This is one of 15 of the A321 model in the main fleet with five more flying for wholly owned subsidiary Air Canada Rouge. We photographed C-FGKP while plane spotting at Toronto Pearson International Airport (YYZ) on July 29, 2017.
For full-size, high resolution versions of any of the photos in the image gallery, simply click on the individual pictures. See below for more detailed information on C-FGKP, the Airbus A321-200 model in general and the airline.
C-FGKP Air Canada Airbus A321-200 Image Gallery
C-FGKP
C-FGKP took its first flight on April 17, 2009 and was delivered to Air France as May 6, 2009 as F-GTAV. On May 15, 2015, the aircraft was delivered to Air Canada with its current registration number. Interestingly, the two airlines are now equal with 15 Airbus A321-200 models each. This Airbus A321-211 is configured for a maximum total of 185 passengers with 16 seats in business class and 169 more in economy class.
Airbus A321-200
The largest of the Airbus A320 Family, the A321-200 was introduced with Monarch Airlines in April, 1997. This followed the rare initial A321-100 variant that first took flight with Lufthansa in 1994. Nearly 1,500 have been built since 1992. The airliner is being replaced by the more fuel efficient Airbus A321neo.
This airplane is 45 metres or 146 feet in length with a wingspan of 36 metres or 118 feet. At the tail, the aircraft stands 12 metres or 39 feet in height. The maximum flight range is 5,950 kilometres.
Air Canada

Air Canada was founded in 1937 as Trans Canada Air Lines. The name change came on New Year's Day in 1965. The airline started out as property of the Canadian National Railway but has since become a private company.
The airline has a fleet of nearly 175 aircraft flying to over 200 destinations around the world. Those numbers increase to close to 400 aircraft and 350 destinations when subsidiaries are added in. Headquartered at Montreal Pierre Elliott Trudeau International Airport (YUL), Air Canada is a founding member of the Star Alliance, along with Lufthansa, Scandinavian Airlines, Thai Airways and United Airlines. The alliance now has 27 full member airlines worldwide.
Resources
More Like This: