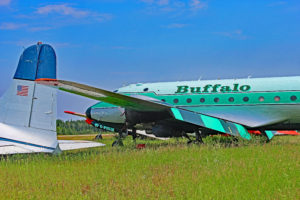 The images shown below were taken in early July, 2016 at the Hay River Airport in Canada's Northwest Territories. The airplane pictured is C-FIQM, a Skymaster C-54 belonging to Buffalo Airways. The four engine airplane is a relic from World War 2 when it belonged to the United States Air Force. At the time, it was employed for military transport.
Click on any of the images in the gallery below to get the full sized version. See below for more information on the airplane and airline.
Images of C-FIQM Buffalo Airways Douglas C-54 Skymaster
C-FIQM
Built in 1943, this Douglas C-54G Skymaster (DC-4) was property of the United States Air Force until September, 1947. Since joining the Buffalo Airways fleet, the airplane has become quite a television star. The Skymaster was used in the British documentary Dambusters: Building The Bouncing Bomb, as well as, the Canadian documentary Dambusters Fly Again. C-FIQM also appears in an episode of NOVA and Ice Pilots NWT.
Since the 1950's, this airplane has belonged to several small airlines. These airlines include Wheeling Airlines, Nordair, Kenn Borek Air, Antarctic Airways and more. This airplane is also know as Douglas C-54G-DC.
Douglas Skymaster C-54
The Skymaster C-54 was a military transport aircraft derived from the DC-4 passenger plane. The C-54 was first produced in 1942 and the last one was built in 1947. In all, 1,170 were built. The airplane could hold four crew and 50 troops.
The C-54 is 29 metres or 94 feet long with a wingspan of 36 metres or 118 feet. At the tail, the airplane stands eight metres or 28 feet high. Flight range is 6,400 kilometres with a cruising speed of 310 km/h.
Buffalo Airways
This airline was founded in 1970 and is based in Hay River, Northwest Territories. Buffalo Airways has a classic fleet which includes 13 Douglas C-54 Skymasters (called Douglas DC-4 by the airline).