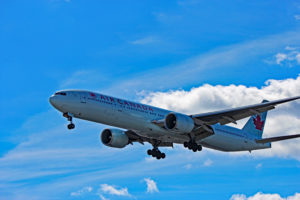 They last flew Boeing 747-400 aircraft in 2004, now Air Canada's largest airplane is the Boeing 777-300ER. C-FITU is just such an aircraft, one of 19 in the Air Canada fleet. This particular airplane has a pretty stellar safety record with no exciting incidents to report.
The images in the gallery were taken on September 25, 2016 at Toronto Pearson International Airport (YYZ). For full-size, high resolution versions of any of the photos, simply click on the individual pictures. See below for more detailed information about this specific airplane, the Boeing 777-300ER model in general and the airline.
C-FITU Air Canada Boeing 777-300ER Image Gallery
C-FITU
C-FITU took its first flight on April 21, 2007 and was delivered to Air Canada on May 1, 2007. This is one of 19 Boeing 777-300ER aircraft currently in the airline's fleet and the largest aircraft that Air Canada flies.
Officially a Boeing 777-333ER, this aircraft is configured for a maximum of 286 passengers. There are 32 seats in business class, 24 more in premium economy and 230 in economy class.

Boeing 777-300ER
The original version of the Boeing 777 was introduced in 1995 with United Airlines. Coincidentally, United and Air Canada are founding members of the Star Alliance. The first Boeing 777-300ER was delivered to Air France in 2004.
The ER stands for extended range and this aircraft can fly 13,650 kilometres between stops. This is around 2,500 more kilometres than the base 777-300 model which has a range of 11,165 km. If needed, 396 passengers can be crammed into this aircraft in a two-class system.
The Boeing 777-300ER is 242 feet or 74 metres in length with a wingspan of 213 feet or 65 metres. At the tail, the aircraft stands 61 feet or 19 metres tall.

Air Canada
A founding member of the Star Alliance, along with Lufthansa, Scandinavian Airlines, Thai Airways and United Airlines. Air Canada was founded in 1937 as Trans-Canada Air Lines with the name switching to its current brand in 1965.
There are over 170 airplanes in the Air Canada fleet and if you include subsidiaries like Air Canada Express and Air Canada Rouge, the airline flies to 350 destinations in Canada and around the world. The airline is headquartered at Air Canada Centre on the grounds of Montreal Pierre Elliott Trudeau International Airport (YUL) in Dorval, Quebec.

Resources
More Like This: