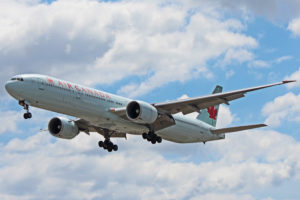 We photographed C-FITW, an Air Canada Boeing 777-300ER, while plane spotting at Toronto Pearson International Airport (YYZ) on July 29, 2017. This particular aircraft had an infamous incident back in 2012 when it lost engine parts while taking off from Toronto with those parts landing on cars a few blocks away from the airport. More on that below.
For full-size, high resolution versions of any of the photos in the image gallery, simply click on the individual pictures. See below for more detailed information on C-FITW, the Boeing 777-300ER model in general and the airline.
C-FITW Air Canada Boeing 777-300ER Image Gallery
C-FITW
C-FITW took its first flight on May 22, 2007 and was delivered to Air Canada on June 1, 2007. The Boeing 777-333ER is one of 19 B773 aircraft in the fleet. The aircraft is configured for a maximum total of 400 passengers with 40 seats in business class, 24 more in premium economy and 336 in economy class.
On May 28, 2012, C-FITW was flying from Toronto, Ontario, Canada to Tokyo, Japan. At 5,000 feet, the crew had to shut down the right side engine. Police on the ground had reported engine parts on the ground on Courtneypark Drive. It turns out, debris from the engine smashed windshields on cars below. Luckily, there were no injuries. After a fuel dump, the aircraft returned safely to Toronto.
Boeing 777-300ER
The first Boeing 777-300ER was delivered to Air France in 2004, nearly a decade after the initial variant of the 777 was introduced with United Airlines. The ER is for extended range and this aircraft can fly around 2,500 more kilometres than the original Boeing 777 at a range of 13,650 KM.
This airliner is 74 metres or 242 feet in length with a wingspan of 65 metres or 213 feet. This makes it ten feet longer than the Boeing 747-400. At the tail, the Boeing 777-300ER is 19 metres or 61 feet in height.
Air Canada
Air Canada was founded in 1937 as Trans Canada Air Lines and commenced operations as Air Canada in 1965. The airline currently has a fleet of around 175 aircraft flying to over 200 destinations around the world. With subsidiaries added in, those numbers balloon to just under 400 aircraft flying to 350 destinations.
Headquartered at Montreal Pierre Elliott Trudeau International Airport (YUL), Air Canada is a founding member of the Star Alliance. The alliance now has 27 full member airlines worldwide.
Resources
More Like This: