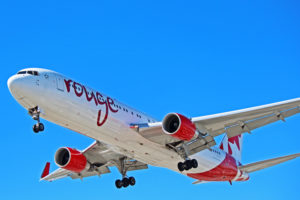 Another hand-me-down Boeing 767-300ER in the Air Canada Rouge fleet, C-FIYE joined up in 2015 after previously flying for Hawaiian Airlines. The aircraft has had its share of troubles with both airlines, most recently in November, 2016. More on that later in the article. The images included here were taken at Toronto Pearson International Airport (YYZ) on June 8, 2017.
For full-size, high resolution versions of any of the photos in the image gallery, simply click on the individual pictures. See below for more detailed information on C-FIYE, the Boeing 767-300ER model in general and the airline.
C-FIYE Air Canada Rouge Boeing 767-300ER Image Gallery
C-FIYE
C-FIYE took its first flight on November 5, 2002 and was delivered to Hawaiian Airlines on November 13, 2002 as N589HA. With Hawaiian, the Boeing 767-33AER was named Moli. On May 30, 2015, the airplane was transferred to the Air Canada Rouge fleet. Currently, the aircraft is configured for a total maximum of 280 passengers with 24 seats in premium economy and 256 more in economy class.
With Hawaiian Airlines, on October 11, 2010, N589HA was flying from Kahului, Hawaii to Portland, Oregon. The flight seemed to go without a hitch until the Boeing 767 was parked. Then, it was noticed that there was damage to one engine and a flap. The cause was determined to be a bird strike after remains were found in one of the engines.
On November 14, 2016, two flight attendants were injured when C-FIYE experienced and extended period of turbulence over the Caribbean Sea. The flight was from Toronto, Ontario to Bogota, Colombia and the turbulence didn't cause any mechanical damage or put the aircraft in any physical danger.
A week later, on November 20, 2016, the Boeing 767-300ER was flying from Toronto, Ontario to Orlando, Florida when a forward lavatory smoke indication was received. At the time, they were not far out of Orlando and the crew did confirm the smell of burning plastic in the lavatory. After landing safely in Orlando, no sign of fire, heat or smoke could be found. 2.5 hours later, the same aircraft made the return flight to Toronto without further incident.
Boeing 767-300ER
The first Boeing 767-300ER entered service with American Airlines in 1988, seven years after the original Boeing 767 was introduced with United Airlines. The ER is for extended range and with a flight range of 11,070 kilometres, can fly nearly 4,000 KM longer than the base -300 model.
The aircraft is 55 metres or 180 feet in length with a wingspan of 48 metres or 156 feet. At the tail, the airplane stands 16 metres or 52 feet in height.
Air Canada Rouge
Introduced in December, 2012 as a fully owned subsidiary of Air Canada, Air Canada Rouge is fully integrated into Air Canada's networks. Currently, the subsidiary has a fleet of 49 aircraft consisting of Airbus A319, Airbus A321 and Boeing 767-300ER models. Rouge flies to 49 destinations and is a member of the Star Alliance through the parent airline.
Resources
More Like This: