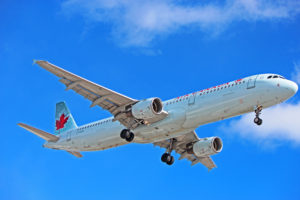 Updated June 16, 2017: Sometime between March, 2017 and June 8, 2017, Air Canada repainted this plane with the new livery. See below for a gallery of images with the new colours for C-FJNX.
Life began with Air France back in 2002 for C-FJNX. The Airbus A321-211 moved to Canada in 2016 and now flies for Air Canada. The images in the gallery below were taken at Toronto Pearson International Airport (YYZ) in March, 2017.
For full-size, high resolution versions of the photos in the image gallery, simply click on the individual pictures. See below for more detailed information on this specific aircraft, the Airbus A321 model in general and the airline.
C-FJNX Air Canada Airbus A321 Image Gallery
C-FJNX Air Canada Airbus A321 New Livery Image Gallery
C-FJNX
C-FJNX made its first flight on February 12, 2002 and was delivered to Air France on March 4, 2002, registered as F-GTAL. The Airbus A321-211 was stored by Air France in November, 2015 and joined the Air Canada fleet on April 12, 2016.
Air France now sits with 18 A321 aircraft in their fleet. Air Canada has 15 with five more in the fleet of Air Canada Rouge. The aircraft is configured in a one class system with maximum seating for 200 passengers.

Airbus A321
The Airbus A321 is the largest in the Airbus A320 family, 23 feet longer than the A320 with the same wingspan and tail height. The first A321 was introduced with Lufthansa in March, 1994 and some 1,500 have been produced since 1992.
The A321 is 45 metres or 146 feet in length with a wingspan of 36 metres or 118 feet. At the tail, the aircraft stands 12 metres or 39 feet in height. The flight range for the A321 is 5,950 kilometres.

Air Canada
Air Canada is headquartered on the grounds of Montreal Pierre Elliott Trudeau International Airport (YUL) in Dorval, Quebec at the Air Canada Centre building. The airline flies to over 180 destinations worldwide with a fleet of over 170 aircraft.
Founded in 1937 as Trans-Canada Air Lines, the name was changed to Air Canada in 1965. AC is a founding member of the Star Alliance, along with Lufthansa, Scandinavian Airlines, Thai Airways and United Airlines. There are currently 27 airlines in the alliance.

Resources
More Like This: