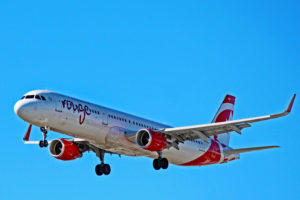 We caught up with C-FJOU on May 20, 2017. The Airbus A321-200 was on final approach at Toronto Pearson International Airport (YYZ) in Mississauga, Ontario. C-FJOU is a relative newcomer, born into the Air Canada Rouge fleet in December, 2015.
For full-size, high resolution versions of any of the photos in the image gallery below, simply click on the individual pictures. See below for more detailed information on C-FJOU, the Airbus A321 model in general and the airline.
C-FJOU Air Canada Rouge Airbus A321 Image Gallery
C-FJOU
C-FJOU made its first flight on November 13, 2015 and was delivered to Air Canada Rouge on December 2, 2015. The Airbus A321 is configured for a total maximum of 200 passengers with 16 seats in premium economy and 184 more in economy class. This is one of just five Airbus A321 models currently in the Air Canada Rouge fleet.

Airbus A321
The largest member of the Airbus A320 family, the A321 is 23 feet longer than the A320. However, it shares the same wingspan and tail height. The Airbus A321 was introduced with Lufthansa in March of 1994 and nearly 1,500 have been built since.
The A321 is 45 meres or 146 feet in length with a wingspan of 36 metres or 118 feet. At the tail, the aircraft is 12 metres or 39 feet in height. The flight range for this airplane is 5,950 kilometres.

Air Canada Rouge
Air Canada Rouge was founded in December of 2012 as a fully owned subsidiary of Air Canada. More a brand, Rouge is fully integrated into the parent airline's systems. Through affiliation, Rouge is a member of the Star Alliance. The parent company was a founding member of the airline alliance.
Rouge flies to nearly 50 destinations with a fleet of 49 aircraft. In the fleet, there are 24 Boeing 767-300ER, 20 Airbus A319-100 and five Airbus A321-200.
The parent company was founded in 1937 as Trans-Canada Air Lines, switching to its current name in 1965. Air Canada flies to 350 destinations worldwide (including subsidiaries) with a fleet of nearly 170 aircraft. The largest airplane they have flying is the Boeing 777-300ER and the smallest (not including regional subsidiaries) is the Embraer ERJ-190.

Resources
More Like This: