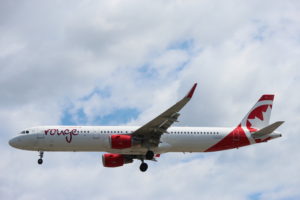 I took a double take when C-FJQH was photographed. I'm so used to Air Canada Rouge's Boeing 767-300ER aircraft with their large winglets and I assumed this was another B763. Not the case, this is an Airbus A321-200 with the company's sleek looking sharklets installed. We caught up with C-FJQH while plane spotting at Toronto Pearson International Airport (YYZ) on July 29, 2017.
For full-size, high resolution versions of any of the photos in the image gallery, simply click on the individual pictures. See below for more detailed information on C-FJQH, the Airbus A321-200 model in general and the airline.
C-FJQH Air Canada Rouge Airbus A321 Image Gallery
C-FJQH
C-FJQH took its first flight on December 11, 2015 and was delivered to Air Canada Rouge on December 18, 2015. This is one of five Airbus A321 airplanes in the Rouge fleet with 15 more in the main Air Canada fleet. As mentioned above, this aircraft is fitted with Airbus's unique sharklets. The airliner is configured for a maximum total of 200 passengers with 16 seats in business class and 184 more in economy class.
Airbus A321-200
The largest airliner in the Airbus A320 Family, the Airbus A321-200 was introduced in April, 1997 with Monarch Airlines. The original A321-100 variant entered service in 1994 with Lufthansa. The A321 is 23 feet longer than the A320. However, both share the same wingspan and tail height.
The Airbus A321-200 is 45 metres or 146 feet in length with a wingspan of 36 metres or 118 feet. At the tail, the aircraft is 12 metres or 39 feet in height. The flight range for this airplane is 5,950 kilometres.
Air Canada Rouge
Founded in December, 2012, Air Canada Rouge is a wholly owned and fully integrated subsidiary of Air Canada. Actually, more of a brand than a subsidiary. With a fleet of 49 aircraft, Rouge flies to 49 destinations in Europe, the United States, Mexico, the Caribbean, Central America and South America. Through the parent company, Rouge is a member of the Star Alliance of airlines.
The fleet of 49 aircraft consists of 20 Airbus A319-100 models, along with five Airbus A321-200 airplanes and 24 Boeing 767-300ER airliners.
Resources
More Like This: