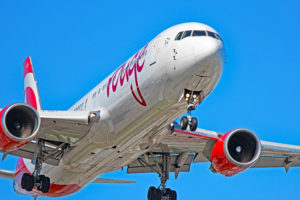 Funny thing about the Boeing 767-300ER, the rest of the world seems to be divesting of this type of aircraft while Air Canada and Westjet seem to be bringing them into Canada. C-FJZK fits into this story. The Boeing 767 began life in 2001 with Air Seychelles and came to Air Canada Rouge in 2015 by way of Kenya Airways.
The images in the gallery below were taken at Toronto Pearson International Airport (YYZ) in June, 2017. For full-size, high resolution versions of any of the photos in the gallery, simply click on the individual pictures. See below for more detailed information on C-FJZK, the Boeing 767-300ER model in general and the airline.
C-FJZK Air Canada Rouge Boeing 767-300ER Image Gallery
C-FJZK
C-FJZK made its first flight on March 14, 2001 and was delivered to Air Seychelles on April 9, 2001 as S7-ASY and named Aldabra. Air Seychelles was founded in 1977 and is headquartered in Mahe, Seychelles. The airline currently has a fleet of ten aircraft, flying to ten destinations. The fleet now consists of Airbus A320, Airbus A330-200 and DHC-6 400 Twin Otter airplanes.
On May 21, 2012, C-FJZK was transferred to the fleet of Kenya Airways, registered as 5Y-KYV. This airline was also founded in 1977 and is headquartered in Embakasi, Nairobi, Kenya. A member of the SkyTeam Alliance, Kenya Airways has a fleet of 37 aircraft with the Boeing 787-8 as the flagship. They fly to 62 destinations worldwide.
After being stored in August, 2014, the Boeing 767-300ER began to fly for Air Canada Rouge on June 22, 2015. This aircraft is configured for a total maximum of 280 passengers with 24 seats in business class and 256 more in economy.
On February 7, 2017, there was a breach in protocol involving C-FJZK. On a flight from Toronto, Ontario to Tampa, Florida, the takeoff was delayed by two hours due to de-icing. Following that, the aircraft had to divert some 200 miles out over the Gulf of Mexico to avoid a line of severe thunderstorms north of Tampa. This resulted in the Boeing 767-300ER landing with less than the required final fuel reserve.
Boeing 767-300ER
The first Boeing 767 of any kind entered service in 1981 with United Airlines. In 1988, the first Boeing 767-300ER was introduced with American Airlines. The ER is for extended range. With a flight range of 11,070 kilometres, the -300ER can fly about 3,800 KM more than the base -300.
The Boeing 767-300ER is 55 metres or 180 feet in length with a wingspan of 48 metres or 156 feet. At the tail, the aircraft stands 16 metres or 52 feet in height.
Air Canada Rouge
A wholly owned and fully integrated subsidiary of Air Canada, Air Canada Rouge was founded in December, 2012. Through that affiliation, the airline is a full member of the Star Alliance. Rouge has a fleet of 49 aircraft, consisting of Airbus A319-100, Airbus A321-200 and Boeing 767-300ER models. Currently, Rouge flies to 49 destinations.
Resources
More Like This: