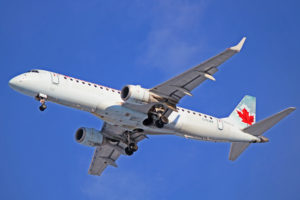 They're not that old. C-FLWK is one of Air Canada's 25 Embraer ERJ-190 aircraft. However, starting at the end of 2019, these are slated to be replaced by Bombardier CS300 models. That is, if Bombardier can deliver it's aircraft at a faster pace than their commuter trains. We photographed C-FLWK while plane spotting at Toronto Pearson International Airport (YYZ) on January 1, 2018.
For full-size, high resolution versions of any of the photos in the image gallery, simply click on the individual pictures. See below for more detailed information on C-FLWK, the Embraer ERJ-190 model in general and the airline.
C-FLWK Air Canada Embraer E190 Image Gallery
C-FLWK
C-FLWK rolled off the line in 2007 and was delivered to Air Canada on August 2, 2007. The Embraer E190IGW is configured for a maximum total of 97 passengers with nine seats in business class and 88 more in economy class. As mentioned, this is one of 25 E190 aircraft in the main Air Canada fleet. They are destined to be replaced by Bombardier CS300 aircraft with deliveries planned to start in December, 2019.
This airliner had an incident on June 15, 2013 while flying from Saskatoon, Saskatchewan to Toronto, Ontario. On final approach to Toronto Pearson International Airport (YYZ), crew received several smoke and fire indications for the forward cargo hold. The aircraft landed safely and no trace of fire, heat or smoke was found.
Embraer ERJ-190
The Embraer 190 is part of the E-Jet family that includeds the E170, E175, E190 and E195. The first flew on March 12, 2004 and JetBlue was the launch customer, taking the first delivery in 2005. JetBlue remains the top operator of this aircraft. The 190 is the most popular variant in the family with around 550 delivered.
The ERJ-190 is 36 metres or 119 feet in length with a wingspan of 29 metres or 94 feet. At the tail, the airliner stands eleven metres or 35 feet in height. The flight range is 4,537 kilometres, only around 900 KM less than the Boeing 737-800.
Air Canada
Air Canada was founded in 1937 as Trans Canada Air Lines. The airline officially switched to its current name on January 1, 1965. Headquartered at Montreal Pierre Elliott Trudeau International Airport (YUL), the Canadian airline has a main fleet of around 175 aircraft flying to over 200 destinations around the world. With subsidiaries added in, those numbers increase to over 400 airliners traveling to 350 locations worldwide.
The airline is a founding member of the Star Alliance, along with Lufthansa, Scandinavian Airlines, Thai Airways and United Airlines. There are now 27 member airlines in the alliance. The largest in Air Canada's main fleet is the Boeing 777-300ER while the most numerous at the moment is the Airbus A320-200.
Resources
More Like This: