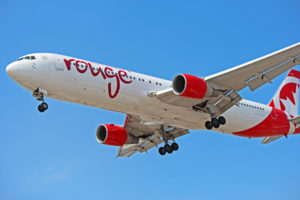 Just three days after C-FMLV was all over the news for blowing a tire while taking off at London Gatwick Airport, we photographed the Air Canada Rouge Boeing 767-300ER landing at Toronto Pearson International Airport (YYZ). The incident made the news because of the long delay it caused at the airport and because Air Canada dropped the ball in getting passengers hotel rooms while the aircraft was repaired. More below.
For full-size, high resolution versions of any of the photos in the image gallery, simply click on the individual pictures. See below for more detailed information on C-FMLV, the Boeing 767-300ER model in general and the airline.
C-FMLV Air Canada Rouge Boeing 767-300ER Image Gallery
C-FMLV
C-FMLV took its first flight on July 8, 1996 and was originally delivered to LAN Chile on July 17, 1996 as CC-CEB. The Boeing 767-300ER was transferred to the main LAN Airlines fleet on July 23, 2004. On August 28, 2012, the airplane was delivered to Caribbean Airlines as 9Y-LGW.
After being stored in November, 2015 by leasing company Aercap, the Boeing 767 was delivered to Air Canada Rouge on March 10, 2016. The airliner is configured for a maximum total of 279 passengers with 24 seats in business class, 36 more in premium economy and 219 in economy class.
On July 17, 2017, C-FMLV ran into problems performing a flight from London Gatwick to Toronto Pearson. On takeoff, the forward outboard right hand main tire burst, leaving debris on not only the departure runway but the backup runway, as well. The runways remained closed while the airplane was in the air and after C-FMLV had returned in order to inspect for and remove debris.
With the aircraft inoperable until the tire was replaced, passengers were bussed to a hotel. However, according to reports, the initial hotel lacked available unoccupied rooms.
Boeing 767-300ER
The first Boeing 767 entered service with United Airlines in 1981 and the Boeing 767-300ER was introduced in 1988 with American Airlines. Nearly 600 of the -300ER model are in still in service. The ER stands for extended range and the -300ER can fly nearly 4,000 kilometres further than the base -300.
The Boeing 767-300ER is 55 metres or 180 feet in length with a wingspan of 48 metres or 156 feet. At the tail, the aircraft stands 16 metres or 52 feet in height. The flight range is 11,070 kilometres.
Air Canada Rouge
Founded in December, 2012 as a fully owned and integrated subsidiary of Air Canada, Air Canada Rouge has a fleet of nearly 50 aircraft flying to nearly 50 destinations. A member of the Star Alliance through the parent company, Rouge's fleet consists of Boeing 767-300ER, Airbus A321-200 and Airbus A319-100 aircraft.
Resources
Flight 1925 Gatwick tire incident
More Like This: