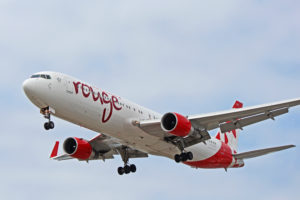 We photographed C-FMWP, an Air Canada Rouge Boeing 767-300ER, while plane spotting at Toronto Pearson International Airport (YYZ) on July 20, 2017. A short time later, on August 5, 2017, the B763 was in the news due to an incident at YYZ. This is the aircraft that clipped wings with a LOT Polish Airlines Boeing 787, causing extensive damage to the wings of both airplanes. This is not the first bit of trouble C-FMWP has experienced over the past handful of years. See below for more.
For full-size, high resolution versions of any of the photos in the image gallery, simply click on the individual pictures. See below for more detailed information on C-FMWP, the Boeing 767-300ER model in general and the airline.
C-FMWP Air Canada Rouge Boeing 767-300ER Image Gallery
C-FMWP
C-FMWP took its first flight in August, 1993 and was delivered to Air Canada on August 10, 1993. However, the Boeing 767-300ER was leased out to Polynesian Airlines from August 15, 1993 to May 1, 1994. The aircraft was then in the AC main fleet from May 1, 1994 to April, 2014. After a brief time in storage, and getting repainted, the airliner was transferred to the Rouge fleet on May 3, 2014. The B763 is configured for a maximum total of 279 passengers with 24 seats in Premium Rouge, 36 more in Rouge Plus and 219 seats in economy class.
The recent wing clipping incident at Toronto Pearson is now what this aircraft is most infamous for. However, life since 2012 certainly hasn't been trouble free. After all, it is a Boeing 767…
On July 12, 2012, C-FMWP was flying from Geneva, Switzerland to Montreal, Quebec. Climbing out of Geneva, a left hydraulic low pressure indication was received. The aircraft returned to Geneva 20 minutes later. No hydraulic fluid remained in the left hand hydraulic system. This resulted in the replacement of the left hand spoiler #1 actuator.
Later that year, the aircraft was again flying from Geneva to Montreal on September 3, 2012. Over Gander, Newfoundland, a smoke detector was activated in a mid wing lavatory. Someone must have been "smokin' in the boys room" as there was a fire in the trash receptacle. Cabin crew put out the fire with an extinguisher and the flight continued to Montreal without further incident.
On February 15, 2013, C-FMWP was flying from Ottawa, Ontario to Frankfurt, Germany. On the initial climb out of Ottawa, the climb was halted due to a configuration warning indication. The aircraft was diverted to Montreal for an overweight but safe landing. The result was the replacement of a thrust management computer.
On August 5, 2017, flying fro Punta Cana, Dominican Republic to Toronto, the Boeing 767-300ER landing safely in Toronto and all was well. However, when parking at Terminal 1, the left hand winglet cut into the right hand wing tip of LOT Polish Airlines SP-LRC, a Boeing 787-8. Both aircraft are now grounded with extensive damage done to their wings.
Boeing 767-300ER
The Boeing 767-300ER was introduced with American Airlines in 1988, seven years after the initial variant of the 767 entered service with United Airlines. The aircraft is 55 metres or 180 feet in length with a wingspan of 48 metres or 156 feet. At the tail, the airliner stands 16 metres or 52 feet in height. The flight range is 11,070 kilometres.
Air Canada Rouge
Founded in December, 2012 as a wholly owned and fully integrated subsidiary of Air Canada, Air Canada Rouge has a fleet of 49 aircraft, flying to 49 destinations. The fleet consists of Airbus A321-200, Airbus A319-100 and Boeing 767-300ER models. The airline is a member of the Star Alliance through affiliation with the parent company.
Resources
Accident article from CBC News
More Like This: