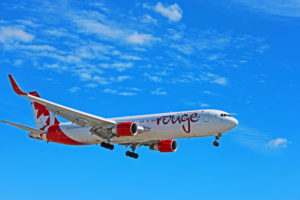 One of 24 Boeing 767-300ER aircraft in the Air Canada Rouge fleet. C-FMWQ began life in 1995 in the main fleet of Air Canada and moved over to Rouge in 2014. This particular Boeing 767-300ER had the misfortune of being hit by a de-icing truck when it was just a youngster.
The photos in the image gallery below were taken at Toronto Pearson International Airport (YYZ) in September, 2016. For full-size, high resolution versions of any of the images, simply click on the individual pictures. See below for more info on this specific airplane, the Boeing 767-300ER model in general and the airline.
C-FMWQ Air Canada Rouge Boeing 767-300ER Image Gallery
C-FMWQ
C-FMWQ took its first flight on October 1, 1995 and was delivered to Air Canada on October 28, 1995. The Boeing 767-333ER was stored on May, 2014 before being transferred to the Rouge line on June 19, 2014.
One of 24 Boeing 767-300ER aircraft in the Air Canada Rouge fleet, with ten more in the main AC fleet, C-FMWQ is configured with 18 seats in premium economy and 246 more in economy class for a potential maximum of 264 passengers.
Back on February 25, 2001, C-FMWQ was at Toronto Pearson International Airport at the Central De-Ice Facility. A de-icing truck slid on the ice, came in contact with the airplane, just below the passenger windows, and left a 15 inch crease. The flight was cancelled with only minor maintenance required to fix the damage.
On July 4, 2012, the Boeing 767-300ER was on a flight from Calgary, Alberta to Tokyo, Japan. Near Anchorage, Alaska, an inflight entertainment screen began to smoke. Power was cut to the inflight entertainment system, the screen was removed and the flight continued without further incident.

Boeing 767-300ER
The first Boeing 767 flow with United Airlines in 1981. The first 767-300ER entered service with American Airlines in 1988. Currently, there are 583 -300ER aircraft in service with airlines around the world.
The ER stands for extended range. The flight range for the -300ER is 11,070 kilometres. This is indeed extended with nearly 4,000 more kilometres than the non-ER model.
The Boeing 767-300ER is 55 metres or 180 feet in length with a wingspan of 156 feet or 48 metres. At the tail, the aircraft stands 16 metres or 52 feet in height.

Air Canada Rouge
Air Canada Rouge is a fully owned subsidiary of Air Canada and was founded in December, 2012. The Rouge fleet consists of 49 aircraft: 20 Airbus A319, 5 Airbus A321 and 24 Boeing 767-300ER.
Rouge is a member of the Star Alliance through the parent company, a founding member. The airline flies to 49 destinations.

Resources
More Like This: