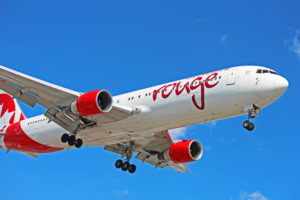 Re-painted with a few different designs over the years, C-FMWY has remained under the Air Canada umbrella since beginning service in 1996. Now with Air Canada Rouge, the Boeing 767-300ER once wore the special Star Alliance livery like C-GITU, an Airbus A321, and C-FDRK, an Airbus A320, do for Air Canada today.
The photos in the image gallery were taken at Toronto Pearson International Airport (YYZ) while plane spotting on July 2, 2017. For full-size, high resolution versions of any of the photos, simply click on the individual pictures. See below for more detailed information on C-FMWY, the Boeing 767-300ER model in general and the airline.
C-FMWY Air Canada Rouge Boeing 767-300ER Image Gallery
C-FMWY
C-FMWY took its first flight on February 12, 1996 and was delivered to Air Canada on February 23, 1996. The Boeing 767-300ER was transferred to the Rouge fleet on May 4, 2014. Currently, the aircraft is configured for a maximum total of 264 passengers with 18 seats in premium economy and 246 more in economy class.
On December 16, 2010, C-FMWY was flying from Vancouver, British Columbia to Toronto, Ontario. Climbing out of Vancouver (YVR), a right side engine fuel filter message was receive. The Boeing 767 returned to Vancouver safely about 20 minutes after taking off. It was determined that the right side engine fuel filter and fuel distribution valve strainer were contaminated. As a result, the whole engine was replaced, along with the fuel filter on the left side engine.
Boeing 767-300ER
The first Boeing 767-300ER entered service with American Airlines in 1988. The aircraft is 55 metres or 180 feet in length with a wingspan of 48 metres or 156 feet. The height at the tail is 16 metres or 52 feet. The ER stands for extended range and this model, with a range of 11,070 kilometres, can fly nearly 4,000 KM more than the base -300.
Air Canada Rouge
Air Canada Rouge was founded in December, 2012 as a fully owned and fully integrated subsidiary of Air Canada. The airline flies to 49 destinations with a fleet of 49 aircraft. The fleet consists of Airbus A319, Airbus 321 and Boeing 767-300ER aircraft. They are a member of the Star Alliance through affiliation with the parent company.
Resources
More Like This: