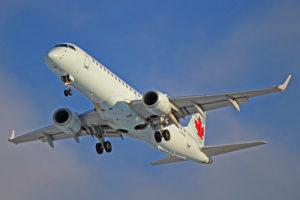 C-FNAJ, an Embraer ERJ-190AR that has maybe learned to keep its distance. Twice between 2010 and 2012, the Air Canada E190 experienced loss of control due to wake turbulence. More on that below. We photographed C-FNAJ on January 1, 2018 while plane spotting at Toronto Pearson International Airport (YYZ).
For full-size, high resolution versions of any of the photos in the image gallery, simply click on the individual pictures. The photographs were taken with a Canon Rebel T6i. See below for more detailed information on C-FNAJ, the Embraer ERJ-190AR model in general and the airline.
C-FNAJ Air Canada Embraer ERJ-190AR Image Gallery
C-FNAJ
C-FNAJ was first delivered to Air Canada on December 14, 2007. The Embraer ERJ-190AR is configured for a maximum total of 97 passengers with nine seats in business class and 88 more seats in economy class. This is one of 25 E190 aircraft in the main Air Canada fleet. However, they will be phased out in the fairly near future, replaced by Bombardier CS300 airliners.
On March 16, 2010, C-FNAJ was flying from Toronto, Ontario to Regina, Saskatchewan. At 36,000 feet, near Winnipeg, Manitoba, the aircraft got caught in wake turbulence from a McDonnell Douglas MD-11 freighter. The E190 dropped to 32,000 feet and continued on to Regina (YQR) for a safe landing.
On July 17, 2012, the Embraer ERJ-190AR was flying from Los Angeles, California to Vancouver, British Columbia. On approach to YVR, the aircraft experienced an uncommanded roll to the right of about a 40 degree bank. Control was regained and the airplane landed safely a few minutes later. The roll and loss of control was caused by the wake turbulence of an airliner operated by WestJet that was nearly four miles ahead.
Embraer ERJ-190AR
The most popular variant of the Embraer E-Jet Family, with around 550 delivered, the Embraer ERJ-190AR took its maiden flight on March 12, 2004. JetBlue was the launch customer, taking their first E190 in 2005. JetBlue remains the top operator for this model of aircraft.
The Embraer ERJ-190AR is 36 metres or 119 feet in length with a wingspan of 29 metres or 94 feet. At the tail, the airliner stands eleven metres or 35 feet in height. The flight range is 4,537 kilometres, only about 900 KM less than a Boeing 737-800.
Air Canada
Air Canada was founded in 1937 as Trans Canada Airlines and commenced operations under its current name in 1965. Headquartered at the Air Canada Centre, on the grounds of Montreal Pierre Elliott Trudeau International Airport (YUL) in Dorval, Quebec, the airline has a main fleet of around 175 aircraft flying to over 200 destinations worldwide. With subsidiaries included, the numbers grow to over 400 aircraft flying to 350 destinations around the world.
Air Canada is a founding member of the Star Alliance, along with Lufthansa, Scandinavian Airlines, Thai Airways and United Airlines. The alliance now has 27 member airlines. The largest aircraft in the main fleet is the Boeing 777-300ER while the most numerous, for now, is the Airbus A320-200.
Resources
More Like This: