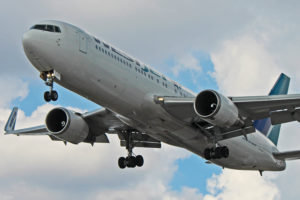 A shattered windshield over the Pacific Ocean. A wonky engine over Iceland. C-FOGJ has had some moments over the past year. The Boeing 767-300ER started life with Qantas in 1991 and has been with WestJet since 2015. We photographed the B763 while plane spotting at Toronto Pearson International Airport (YYZ) on September 14, 2017.
For full-size, high resolution versions of any of the photos in the image gallery, simply click on the individual pictures. See below for more detailed information on C-FOGJ, the Boeing 767-300ER model in general and the airline.
C-FOGJ WestJet Boeing 767-300ER Image Gallery
C-FOGJ
C-FOGJ took its first flight on October 3, 1991 and was delivered to Qantas on October 16, 1991 as VH-OGJ. On October 11, 2002, the Boeing 767-300ER was transferred to Australian Airlines 2002, a wholly owned subsidiary of Qantas. The airline was founded in 2001 and ceased operations on June 30, 2006. Headquartered in Sydney, Australia, Australian Airlines 2002 had a fleet of five Boeing 767-300ER aircraft flying to 13 destinations.
VH-OHJ was back in service with Qantas on May 15, 2006 and was later put into storage by the airline in October, 2014. The B763 was delivered to WestJet on August 26, 2015. The airliner is configured for a maximum total of 262 passengers with 24 seats in business class (WestJet Plus) and 238 in economy class.
While in service with Qantas, the aircraft was flying from Darwin to Brisbane in Australia on January 29, 2012. After the crew smelled smoke in the cockpit, the aircraft was diverted to Mount Isa for a safe landing. No trace of fire, heat or smoke was found.
Something minor happened on July 5, 2016 but it could have been catastrophic. Flying from London, England to Vancouver, British Columbia, the crew were told to turn right after taking off. Instead, they turned left. There luckily were no resulting traffic conflicts.
On September 10, 2016, C-FOGJ was flying from London, England to Edmonton, Alberta. Just southeast of Keflavik, Iceland (Reykjavik), a bang was heard and a jolt was felt on board. The aircraft diverted to Keflavik for a safe landing after burning off fuel for an hour. It was determined the left hand engine had malfunctioned and was banging and vibrating. The engine was removed.
On April 9, 2017, the Boeing 767-300ER was flying from Edmonton, Alberta to Kahului, Hawaii. At 38,000 feet and 710 miles from Kahului, the right hand windshield shattered. The aircraft descended to 14,000 feet for the remainder of the flight and landing safely in Kahului.
Boeing 767-300ER
The first Boeing 767-300ER entered service with American Airlines in 1988, seven years after the initial variant of the 767 was introduced with United Airlines. In all, 583 -300ER models were put into service. The aircraft is 55 metres or 180 feet in length with a wingspan of 48 metres or 156 feet. At the tail, the airliner stands 16 metres or 52 feet in height.
WestJet
Founded in 1996, WestJet is headquartered in Calgary, Alberta. Currently, they have a fleet of 119 aircraft, mostly variants of Next Generation Boeing 737 models, along with four Boeing 767-300ER airliners. On order are three variants of Boeing 737 MAX and ten Boeing 787-9 Dreamliner airliners. The airline flies to 92 destinations in Canada, the United States, Europe, Mexico, Central America and the Caribbean.
Sudsidiary WestJet Encore has a fleet of Bombardier Dash-8 Q400 aircraft and are not included in the main fleet numbers above. New ultra low cost subsidiary Swoop will commence service in 2018 with a handful of Boeing 737-800 models.
Resources
More Like This: