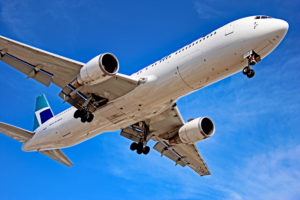 A veteran of the skies, C-FOGT started life with Qantas in Australia back in 1991. Westjet acquired the Boeing 767-300ER from Boeing Capital Corporation in April, 2016 and the images in the gallery below were taken on August 17, 2016.
Just a short time ago, on January 28, 2017, the C-FOGT had a scary incident while taking off from Calgary, Alberta. The airplane lost a wheel. There are other incidents over this aircraft's history, see below for more details.
The images in the gallery were taken at Toronto Pearson International Airport (YYZ) in Mississauga, Ontario. For full-size, high resolution versions, simply click on the individual photos in the gallery. See below for more information on this particular airplane, the Boeing 767-300ER model in general and the airline.
C-FOGT Westjet Boeing 767-300ER Image Gallery
C-FOGT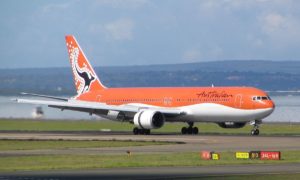 Officially a Boeing 767-338ER with winglets, C-FOGT took its first flight on August 12, 1991. The aircraft was delivered to Qantas on August 29, 1991 as VH-OGI. The Australian airline commenced operations in 1921 and is the third oldest airline in the world. Qantas now as a fleet of 118 and travels to 85 destinations worldwide.
From October 22, 2002 to May 16, 2006, VH-OGI was in the fleet of Australian Airlines, a wholly owned subsidiary of Qantas. The airline ceased operations on June 30, 2006 with a final count of five airplanes in their fleet, traveling to 13 destinations.
The Boeing 767 then returned to service with Qantas until being stored in November, 2014. The aircraft was delivered to Westjet on April 12, 2016. C-FOGT is leased from Boeing Capital Corporation and is configured with 24 plus seats and 238 more in economy class.

Incidents
On January 28, 2017, C-FOGT was performing a flight from Calgary, Alberta to Honolulu, Hawaii with 247 on board. Upon takeoff, a BRAKE TEMP indication was received and the control tower saw a wheel rolling away from the aircraft.
After a low approach to Calgary, it was determined that the forward outboard left main gear wheel was missing. After holding to burn fuel, the plane safely landed back in Calgary.
On September 23, 1993, VH-OGI had a near miss with a smaller aircraft while on approach to Brisbane, Australia, on a flight from Sydney.
On January 16, 2000, the aircraft was performing a flight for Qantas from Melbourne, Australia to Denpasar, Indonesia. The Boeing 767-300 was following the ILS glide path when the crew noted the approach angle appeared shallower than normal. If they continued to follow, the aircraft would have likely landed short of the runway. Following that, the ILS for that runway was deemed unreliable.

Boeing 767-300ER
The first Boeing 767-300ER entered service with American Airlines in 1988. The ER is for extended range. The first Boeing 767 of any kind was introduced in 1981 with United Airlines. There are nearly 600 Boeing 767-300ER aircraft currently in service.
The length of this aircraft is 55 metres or 180 feet with a wingspan of 48 metres or 156 feet. At the tail, the Boeing 767-300ER stands 16 metres or 52 feet in height. The flight range is 10,549 kilometres.

Westjet
Headquartered in Calgary, Alberta, Westjet was founded in 1996. The airline has a fleet of 119 and travels to 91 destinations. The fleet consists of Boeing 737-600, 737-700 and 737-800, along with their newly leased Boeing 767-300ER's. On order are Boeing 737 Max 7 and Boeing 737 Max 8.
Westjet Encore is a wholly owned subsidiary that has a fleet entirely consisting of Bombardier Q400 aircraft.

Resources
More Like This: