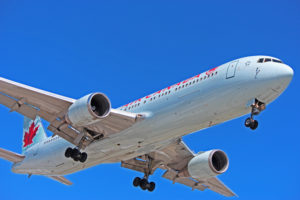 A few years away from its 30th birthday, C-FPCA started flying back in 1989 with Canadian Airlines. Canadian is now defunct, merged into Air Canada in 2001. The images below of the Boeing 767-375ER were taken while plane spotting at Toronto Pearson International Airport (YYZ) on June 8, 2017.
For full-size, high resolution versions of any of the photos in the image gallery, simply click on the individual pictures. See below for more detailed information on C-FPCA, the Boeing 767-300ER model in general and the airline (including Canadian Airlines).
C-FPCA Air Canada Boeing 767-300ER Image Gallery
C-FPCA
C-FPCA took its first flight on March 28, 1989 and was delivered to Canadian Airlines on April 18, 1989. The Boeing 767-375ER was transferred to the Air Canada fleet on March 29, 2001. The aircraft is currently configured for a maximum total of 211 passengers with 24 seats in business class and 187 more in economy class.
On March 31, 2013, C-FPCA was flying from London, England to Edmonton, Alberta. Just before descent, the first officer became ill and unable to continue duties. The relief first officer took over and the Boeing 767-300ER landing safely at Edmonton (YEG).
On August 19, 2015, the aircraft was flying from Toronto, Ontario to Istanbul, Turkey. On takeoff, the tail contacted the runway, resulting in a TAILSKID EICAS message. After climbing to 33,000 feet, it was then decided to return to Toronto. Repairs were completed and the airplane returned to service two days later.
Boeing 767-300ER
The first Boeing 767-300ER entered service with American Airlines in 1988. The original 767 model entered service with United Airlines in 1981. The ER is for extended range and this aircraft can fly nearly 4,000 kilometres further than the base -300 model with a flight range of 11,070 KM.
The Boeing 767-300ER is 55 metres or 180 feet in length with a wingspan of 48 metres or 156 feet. At the tail, the aircraft stands 16 metres or 52 feet in height.
Air Canada
Founded in 1937 as Trans-Canada Air Lines, Air Canada is headquartered on the grounds of Montreal's Pierre Elliott Trudeau International Airport (YUL) in Dorval, Quebec. The airline has a fleet of over 380 aircraft (including subsidiaries) and flies to over 350 destinations worldwide.
Air Canada is a founding member of the Star Alliance of airlines. Star has 27 full members. Other founding members include Lufthansa, Scandinavian Airlines, Thai Airways and United Airlines.
Canadian Airlines
Canadian Airlines was founded in 1987 with the amalgamation of Pacific Western Airlines, Canadian Pacific Air Lines, Eastern Provincial Airways and Nordair. Two years later, the airline acquired Wardair, allowing access to routes in Europe. Canadian ceased operations in 2001, acquired by Air Canada.
Headquartered in Calgary, Alberta, the airline had a fleet of 97 aircraft, flying to 160 destinations in 17 countries. The fleet was headlined by four Boeing 747-400 and 14 McDonnell Douglas DC-10-30 aircraft. A founding member of the Oneworld Alliance in 1999, the airline never had an accident resulting in fatality.
Resources
More Like This: