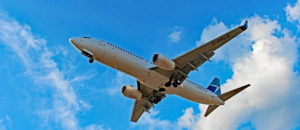 A standard sight at Toronto Pearson International Airport (YYZ), or any other major airport in Canada. Pictured below is a Westjet Boeing 737-800, registered C-FPLS. Along with Air Canada, the two carriers are responsible for most of the domestic air travel in the country.
The images below were taken on September 6, 2015 at Toronto Pearson. At the time, the airliner was just an infant, just over four months from its maiden flight. For full sized versions of any photos in the gallery, simply click on the individual images. See below for more detailed information of this specific airplane, Boeing 737-800's in general and the airline.
C-FPLS Westjet Boeing 737 Image Gallery
C-FPLS
This airplane, registered C-FPLS, is a Boeing 737-8CT belonging to Westjet Airlines. The airliner made its first flight on April 28, 2015 and was delivered to Westjet on May 8, 2015. C-FPLS is based at Calgary International Airport (YYC).
The Boeing 737-800 is configured with 12 plus economy seats and 156 economy class seats for a total of 178. Yet to be involved in any mechanical incidents, this airliner was involved in a criminal incident prior to a flight from Calgary to Las Vegas, Nevada (LAS). Police escorted a passenger off the airplane in Calgary after he was caught stealing an item from another passenger in the security area.

Boeing 737-800
The 737-800 is a stretched out version of the Boeing 737-700, at an extended length of 19 feet. The first 737-800 entered service with Hapaq-Lloyd Flug in 1998. The first Boeing 737 on any variation entered service back in 1968 with Germany's Lufthansa.
The airliner is 130 feet or 40 metres in length. As mentioned, that is 19 feet longer than the Boeing 737-700. The wingspan is 118 feet or 36 metres while the height at the tail is 41 feet or 13 metres. Cruise range fully loaded is 5,765 kilometres with winglets installed, which C-FPLS has. Without the winglets, the cruise range is 100 km less.

Westjet
Westjet Airlines was founded in 1996 and is headquartered in Calgary, Alberta. The airline has a fleet size of 119 and covers 91 destinations. Originally limited to North America and Caribbean, Westjet has added Boeing 767-300ER's to the fleet for overseas flights.
The airline flies three variations of the Next Gen Boeing 737, the -600, -700 and -800. There are Boeing 737 Max 7 and 737 Max 8 airliners on order. Westjet Encore, a subsidiary, flies Bombardier Q400 aircraft.

Resources
More Like This: