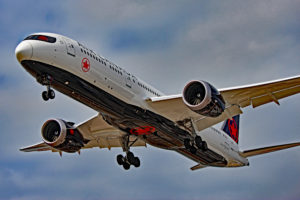 Another new addition to the Air Canada fleet, C-FRTW was honoured to be the first from the airline to fly the new direct route from Toronto, Ontario to Mumbai, India in July, 2017. We photographed the Boeing 787-9 Dreamliner (B789) while plane spotting at Toronto Pearson International Airport (YYZ) on July 20, 2017.
For full-size, high resolution versions of any of the photos in the image gallery, simply click on the individual pictures. See below for more detailed information on C-FRTW, the Boeing 787-9 Dreamliner model in general and the airline.
C-FRTW Air Canada Boeing 787-9 Dreamliner Image Gallery
C-FRTW
C-FRTW took its first flight on June 9, 2017 and was delivered to Air Canada on June 22, 2017. As mentioned, this Boeing 787-9 was used for the airline's inaugural flight from Toronto, Ontario to Mumbai, India in July, 2017.
This aircraft is configured for a total maximum of 298 passengers with 30 seats in business class, 21 more in premium economy and 247 seats in economy class. This is one of 21 B789 aircraft in the fleet at the moment with eight more coming by the end of 2019. The strategy for Air Canada is to replace their aging Boeing 767-300ER models with the Dreamliners.
Boeing 787-9 Dreamliner
The first Boeing 787-9 Dreamliner took its first flight on September 17, 2013 and was delivered to Air New Zealand on July 8, 2014. This followed the first variant, the Boeing 787-8, which was introduced with All Nippon Airways in October, 2011.
The airliner is 63 metres or 206 feet in length with a wingspan of 60 metres or 197 feet. At the tail, the B789 stands 17 metres or 56 feet in height. The flight range for the Boeing 787-9 is 14,140 kilometres.
Air Canada
Founded in 1937 as Trans Canada Air Lines, the name changed to Air Canada on New Year's Day in 1965. The rapidly growing airline has a fleet of over 170 aircraft in the main fleet, growing to nearly 400 when subsidiaries Air Canada Rouge and Air Canada Express are added in. The airline flies to over 200 destinations worldwide, over 350 with subsidiaries included.
The fleet is led in size by the Boeing 777-300ER and in quantity by the 42 Airbus A320-200 airplanes. Air Canada is a member of the Star Alliance. The airline founded the alliance, along with Lufthansa, Scandinavian Airlines, Thai Airways and United Airlines. Star Alliance now has 27 member airlines worldwide.
Resources
Chhatrapati Shivaji International Airport (Mumbai)
Air Canada Boeing 787-9 seating map
More Like This: