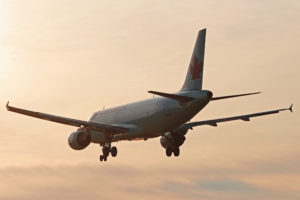 We photographed C-FTJS while plane spotting at Toronto Pearson International Airport (YYZ) on October 19, 2017. One of 42 Airbus A320-200 models in the main Air Canada fleet, these aircraft will be subject to a gradual phase out by the Canadian airline, starting in mid 2018.
For full-size, high resolution versions of any of the photos in the image gallery, simply click on the individual pictures. See below for more detailed information on C-FTJS, the Airbus A320-200 model in general and the airline.
C-FTJS Air Canada Airbus A320-200 Image Gallery
C-FTJS
C-FTJS took its first flight on September 25, 1991 and was delivered to Air Canada on November 27, 1991. The Airbus A320-211 is configured for a maximum total of 146 passengers with 14 seats in business class, 36 more in 'preferred seating' (premium economy) and 96 seats in economy class. This is one of 42 A320 aircraft in the main fleet. Phase outs by Air Canada for this model of airliner being in mid 2018.
Airbus A320-200
The Airbus A320-200 was first introduced with Air France in 1988. Since, nearly 4,400 of this variant have been delivered. The initial variant in the Airbus A320 family, it is larger than the A318 and A319 but 23 feet shorter than the Airbus A321. In all, there have been around a staggering 7,500 aircraft from the A320 Family delivered.
The A320-200 is 38 metres or 123 feet in length with a wingspan of 36 metres or 118 feet. At the tail, the aircraft stands 12 metres or 39 feet in height. The flight range is 6,100 kilometres.
Air Canada
Air Canada was a founding member of the Star Alliance, along with Lufthansa, Scandinavian Airlines, Thai Airways and United Airlines. The alliance now has 27 full members around the world. Headquartered on the grounds of Montreal Pierre Elliott Trudeau International Airport (YUL) in Dorval, Quebec, the airline flies to over 200 destinations worldwide with a main fleet of around 175 aircraft. With subsidiaries Air Canada Rouge and Air Canada Express added in, those numbers balloon to 350 destinations with just under 400 aircraft.
The airline was founded as Trans Canada Air Lines in 1937 with the name officially switching to Air Canada on January 1, 1965. The largest in the fleet is the Boeing 777-300ER while the most numerous is the Airbus A320-200.
Resources
Pierre Elliott Trudeau International Airport
More Like This: