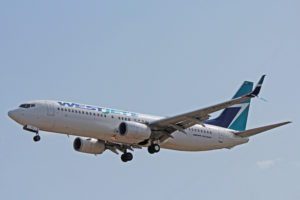 C-FUSM is one of 46 Boeing 737-800 aircraft in the WestJet fleet. Around since 2013, we photographed this B738 while plane spotting at Toronto Pearson International Airport (YYZ) on August 25, 2017.
For full-size, high resolution versions of the photos in the image gallery, simply click on the individual pictures. See below for more detailed information on C-FUSM, the Boeing 737-800 model in general and the airline.
C-FUSM WestJet Boeing 737-800 Image Gallery
C-FUSM
C-FUSM took its maiden flight on November 12, 2013 and was delivered to WestJet on December 6, 2013. One of 46 B738 aircraft in the fleet, this airliner is congifured for a maximum total of 168 passengers with 12 seats in Plus (premium economy) and 156 more in economy class.
Boeing 737-800
The star of the Boeing 737 Next Generation Family, the Boeing 737-800 is a stretched version of the 737-700 variant by 19 feet. The B738 first entered service in 1998 and is direct competition with the Airbus A320. Over 4,500 have been delivered to date, by far the most popular variant in the family.
The Boeing 737-800 is 40 metres or 130 feet in length with a wingspan of 36 metres or 118 feet. At the tail, the airliner stands 13 metres or 41 feet in height. The maximum flight range for the B738 is 4,300 kilometres.
WestJet
Founded in 1996, WestJet, Canada's second largest carrier behind Air Canada, is headquartered in Calgary, Alberta. There are more than 120 aircraft in the fleet with 60 more airliners on order. Once entirely made up of Boeing 737 variants, the fleet is expanding to include Boeing 767-300ER and Boeing 787-9 Dreamliner models. The airline flies to nearly 100 destinations in Canada, the United States, Europe, Mexico, Central America and the Caribbean.
WestJet Encore is a fully owned subsidiary performing regional flights and not included in the numbers above. Encore has a fleet of 41 Bombardier Dash-8 Q400 aircraft flying to nearly 40 destinations in Canada and the United States.
Resources
More Like This: