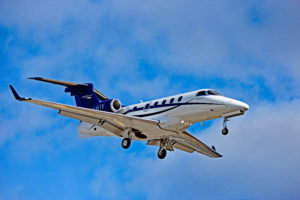 It's a beautiful little airplane and was undoubtedly carrying passengers with much more money than me when the images below were taken on March 12, 2017. C-FWTF is an Embraer Phenom 300 owned by Flightpath Charter Airways Inc. It was seen landing in some pretty heavy crosswinds at Toronto Pearson International Airport (YYZ) in Mississauga, Ontario.
For full-sized, high resolution versions of any of the photos in the image gallery below, simply click on the individual pictures. See below the gallery for more detailed information on this particular airliner, the Embraer Phenom 300 model in general and the airline.
C-FWTF Flightpath Charter Airways Embraer Phenom 300 Image Gallery
C-FWTF
C-FWTF is a Embraer Phenom 300 private jet that was built in 2016. Configured for six high luxury seats, the airplane belongs to Flightpath Charter Airways out of Breslau, Ontario. The company name does not appear on the outside of the airplane.
The registration number is shown on the sides of each of the aircraft's two engines. On the tail and at the front of C-FWTF, just below the cockpit side window, it says Phenom 300 by Embraer.

Embraer Phenom 300
The first Embraer Phenom 300 (EMB-505) took its maiden flight in 2008. The aircraft was introduced to the market in 2009. There have been over 350 built with the airplane now manufactured in Melbourne, Florida by the Brazilian based Embraer.
The Phenom 300 is 16 metres or 52 feet in length with a wingspan just slightly more that the length. At the tail, the airplane stands five metres or 17 feet in height. The flight range for this aircraft is 3,650 kilometres.

Flightpath Charter Airways
Flightpath Charter Airways is a company out of Breslau, Ontario in the Kitchener-Waterloo area, west of Toronto. Breslau is home to the Waterloo Region International Airport (YKF). Flightpath has aircraft from the four passenger Phenom 100 the Bombardier Challenger 604 which carries ten passengers. Among the various aircraft in the fleet is the Beechcraft King Air 200 prop plane which seats eight passengers.
The company also offers private charter helicopter service. Flightpath serves as a brokerage for those wanting to buy their own private aircraft.

Resources
More Like This: