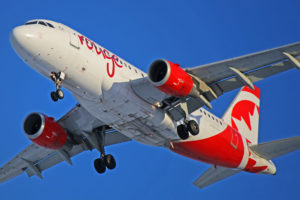 C-FYKW has been in the Air Canada family since 1997, shifting to wholly owned subsidiary Air Canada Rouge in 2013. The Airbus A319-100 has had a safe and uneventful journey with the airline. That is, with exception of an incident caused by pilot error back in 2003. More on that below.
We photographed this A319 while plane spotting at Toronto Pearson International Airport (YYZ) on January 1, 2018. For full-size, high resolution versions for any of the photos in the image gallery, simply click on the individual pictures. See below for more detailed information on C-FYKW, the Airbus A319-100 model in general and the airline.
C-FYKW Air Canada Rouge Airbus A319 Image Gallery
C-FYKW
C-FYKW took its first flight on June 23, 1997 and was delivered to Air Canada on July 10, 1997. On December 5, 2013, the Airbus A319-100 was transferred from the main fleet to Air Canada Rouge. The airplane is configured for a maximum total of 136 passengers with 12 seats in business class and 124 more in premium economy.
Back on August 23, 2003, C-FYKW was flying from Toronto, Ontario to Kelowna, British Columbia for Air Canada. Due to smoke from forest fires in the Kelowna area, navigation aid was limited for the approach. Because of this, the pilot accidentally lined the A319 up for a runway at the nearby smaler airport in the town of Vernon. A landing on the runway was averted in time and the flight carried on to its scheduled destination.
Airbus A319-100
The first Airbus A319-100 took its maiden flight on August 25, 1995 and was introduced with Swissair in 1996. This is a shortened version of the initial A320 variant in the Airbus A320 Family. The airliner is 34 metres or 111 feet in length with a wingspan of 36 metres or 118 feet. At the tail, the aircraft stands 12 metres or 39 feet in height. The flight range is 6,950 kilometres. The A319 is in direct competition with the Boeing 737-700.
Air Canada Rouge
Founded in December, 2012, Air Canada Rouge is a fully owned and fully integrated subsidiary (brand) of Canadian airline Air Canada. Rouge has a fleet of 49 aircraft flying to 49 destinations. The fleet consists of 24 Boeing 767-300ER, 20 Airbus A319-100 and five Airbus A321-200 airplanes. Through the main airline, Rouge is a member of the Star Alliance.
Resources
More Like This: