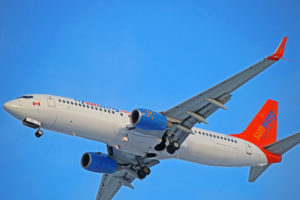 A well-traveled Boeing 737-800, C-FYLC came to Sunwing back in 2008. In the two years before that, the B738 started life with Ajet (Helios Airways) in Cyprus. However, just months after joining the airline, the business was shut down. The 737 then joined up with XL Airways in the U.K. but, 2 years later, that airline also met its demise.
We photographed C-FYLC on January 1, 2018 while plane spotting at Toronto Pearson International Airport (YYZ). For full-size, high resolution versions of any of the photos in the image gallery, simply click on the individual pictures. See below for more detailed information on C-FYLC, the Boeing 737-800 model in general and the airline.
C-FYLC Sunwing Boeing 737-800 Image Gallery
C-FYLC
C-FYLC took its first flight on May 3, 2006 and was delivered to Ajet on May 26, 2006 as 5B-DCE. The airline was founded in 1998 as Helios Airways and was headquartered at Larnaca International Airport in Cyprus. At the time of its demise in November, 2006, Ajet has a fleet of two Boeing 737-800 aircraft.
On October 15, 2008, the B738 started its movement westward, picked up by XL Airways UK as G-OXLC. That airline was headquartered in Crawley, England and was founded in 1994 as Sabre Airways. The airline ceased operations on September 13, 2008.
On November 18, 2008, C-FYLC joined the Sunwing fleet. Since, the Boeing 737-800 has been leased seasonally to Viking Airlines, Thomson Airways, SmartWings and TUIfly Netherlands. The aircraft is configured for a maximum total of 189 passengers, all in economy class.
On January 10, 2014, flying for Sunwing from Montreal, Quebec to Punta Cana, Dominican Republic, the airplane has issues on takeoff. The takeoff was ultimately aborted at 130 knots after two bangs were heard with left yaws each time. The left side engine was removed for repairs.
A few months ago, on September 9, 2017, the airliner was flying for TUI Airlines from Amsterdam, Netherlandds to Rhodes, Greece. Climbing out of Amsterdam, the B738 wsa struck by lightning. The climb was stopped at 10,000 feet and following a fuel burn, C-FYLC returned safely to its point of departure.
Boeing 737-800
The stretched version of the Boeing 737-700 first entered service with Hapaq-Lloyd Flug (TUIfly) in 1998. The direct competitor with the Airbus A321-200 is by far the most popular variant of the Boeing 737 Next Generation Family with over 4,500 delivered.
The Boeing 737-800 is 40 metres or 130 feet in length with a wingspan of 36 metres or 118 feet. At the tail, the B738 stands 13 metres or 41 feet in height. The flight range is 5,436 kilometres.
Sunwing

Sunwing was founded and commenced operations in 2005. The airline is headquartered in Toronto, Ontario and has a fleet of 29 aircraft flying to 73 destinations. The fleet consists entirely of Boeing 737-800 aircraft, for now. There are four Boeing 737 Max 8 models on order for future deliveries. The destinations are in the United States, Mexico, the Caribbean Islands, Central America and South America.
Resources
More Like This: