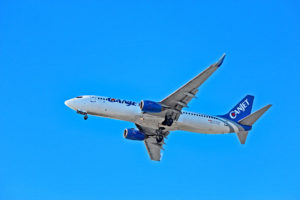 The images in the gallery below of C-FYQN, a Boeing 737-800 at the time belonging to CanJet, were taken on March 9, 2015. The aircraft went into storage a month later and CanJet ceased operations on September 1, 2015. The airplane is now in the fleet of Air Transat but since its first flight in 2001, has been operated by a handful of airlines.
For full-size, high resolution versions of any of the images in the gallery, simply click on the individual photos. See below for more information on this specific airplane, the Boeing 737-800 model in general and the airline.
C-FYQN CanJet Boeing 737-800 Image Gallery
C-FYQN
C-FYQN made its first flight on December 6, 2001 and was delivered to Ryanair on December 19, 2001 as EI-CST. The European ultra low cost carrier stored the Boeing 737-800 in March, 2009. The following month, the aircraft was delivered to CanJet and the registration was changed to C-FYQN.
With CanJet doing their bulk of business in the winter months, taking Canadian vacationers to sunshine destinations, the Boeing 737-800 was leased to LOT Polish Airlines over the summer of 2014. After being stored for a short time in April, 2015, C-FYQN was then leased to JetairFly (aka TUIfly Belgium) between April and December, 2015 and was registered as OO-CAN.
Since December 3, 2015, Air Transat has leased this airplane (as C-FYQN) from CIT Aerospace. The Boeing 737-800 has the sardine can configuration of 189 seats, all in economy class.

Boeing 737-800
The stretched version of a Boeing 737-700, the Boeing 737-800 is 19 feet longer. The first -800 was launched with Hapaq-Lloyd Flug (now TUIfly) in 1994 and entered service in 1998. The aircraft is in direct competition with the Airbus A320.
The Boeing 737-800 is 40 metres or 130 feet in length with a wingspan of 36 metres or 118 feet. At the tail, the aircraft stands 13 metres or 41 feet tall. The maximum range (according to Air Transat) is 4,300 kilometres.

CanJet
CanJet was founded in June, 2002 and ceased operations on September 1, 2015. The airline was headquartered in Enfield, Nova Scotia and was under the parent company IMP Group International.
At the end, CanJet had a fleet of six Boeing 737-800 and flew to 37 destinations. The airline stopped regularly scheduled flights in September, 2006 and flew charters only until their demise in 2015.
The airline has roots back to 1999 when it was established and merged with Canada 3000 but shortly thereafter went bankrupt.

Resources
More Like This: