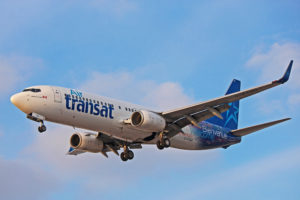 C-FYQO started out life in the skies with Ryanair, an airline now with 412 Boeing 737-800 aircraft. Now, it is one of just eight B738 airliners in the Air Transat fleet. The airplane came to Air Transat via the now defunct CanJet Airlines. We photographed C-FYQO on December 3, 2017 while plane spotting at Toronto Pearson International Airport (YYZ).
For full-size, high resolution versions of any of the photos in the image gallery, simply click on the individual pictures. See below for more detailed information on C-FYQO, the Boeing 737-800 model in general and the airline.
C-FYQO Air Transat Boeing 737-800 Image Gallery
C-FYQO
C-FYQO took its first flight on January 3, 2002 and was delivered to Ryanair on January 18, 2002 as EI-CSV. Ryanair was founded in 1984 and commenced operations in 1985. The ultra low cost carrier now has 413 aircraft, 412 of which are Boeing 737-800 models, flying to 205 destinations.
On April 15, 2009, the B738 moved to Canada to fly for CanJet Airlines with its current registration number. CanJet was founded on June 20, 2002 and ceased operations on September 1, 2015. At the time its demise, the airline had a fleet of six Boeing 737-800 aircraft flying to 37 destinations. CanJet was headquartered in Enfield, Nova Scotia. While with that airline, the aircraft spent a short stint leased out to LOT Polish Airlines.
On September 4, 2015, C-FYQO was transferred to Air Transat. Now, this is one of eight Boeing 737-800 aircraft in the AT fleet. The airliner is configured for a maximum total of 189 passengers, all in economy class.
This aircraft has a history of flaps/slats problems. On April 28, 2012, the B738 was flying for CanJet from Ft. Lauderdale, Florida to Toronto, Ontario. On approach to Toronto, crew received a flaps fault indication. After aborting the approach, an emergency was declared and a safe landing ensued at a higher than normal speed. An connector to the flaps #5 skew sensor was found to be at fault and was replaced.
On September 21, 2013, C-FYQO was flying from Orlando, Florida to Montreal, Quebec and landed safely at the destination. However, a post flight inspection found substantial damage on the leading edge of the left side wing due to a bird strike. The #2 slat needed to be replaced.
On July 10, 2016, the Boeing 737-800 was flying from Cancun, Mexico to Toronto. Climbing out of Cancun, a flaps disagree message was received. When the flaps were retracted, they remained at position 5. The climb was stopped and the aircraft returned to Cancun. After 2 1/2 hours, the aircraft restarted the flight for a safe trip to Toronto.
However, the following day, the problem reoccurred on a flight from Puerto Plata, Dominican Republic to Toronto. On takeoff from Puerto Plata, the climb was stopped at 5,000 feet and the aircraft returned to its point of departure for a safe landing.
Not long after, on August 3, 2016, C-FYQO was flying from Holguin, Cuba to Montreal, Quebec when the same flaps problem occurred. Once again, the climb was stopped and, this time, the flight was diverted to Varadero, Cuba for a safe landing. The problem appeared again when leaving Varadero. It was discovered that a broken connector wire was at fault and not the actual connector. This was repaired and there have been no more problems.
Boeing 737-800
The headliner of the Boeing 737 Next Gen Family, over 4,500 of the Boeing 737-800 have been delivered, to date. The aircraft first entered service in 1998 with Hapaq-Lloyd Flug (now TUIfly) and is a direct competitor to the Airbus A320. The B738 is 40 metres or 130 feet in length with a wingspan of 36 metres or 118 feet. At the tail, the airliner stands 13 metres or 41 feet in height. The maximum flight range is 5,436 kilometres.
Air Transat
Air Transat commenced operations in 1987 and is headquartered in Montreal, Quebec. Th airline has a fleet of around 30 aircraft that fly to more than 60 destinations in 30 countries. The fleet currently consists of Airbus A330-300, Airbus A330-200, Airbus A310-300, Boeing 737-800 and Boeing 737-700 models. In 2019, the aging but classic Airbus A310-300 airliners are to be replaced by Airbus A321LR models.
Resources
More Like This: